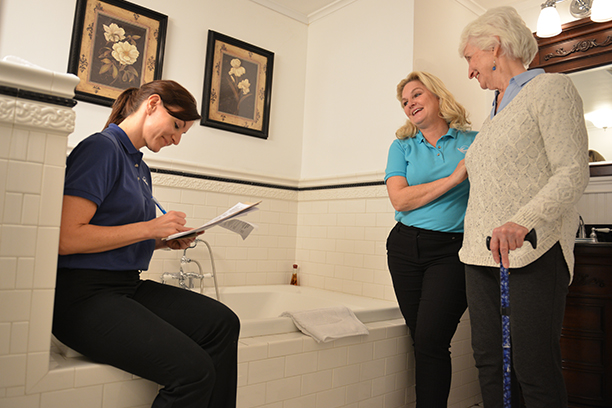 About Visiting Angels of The Western Slope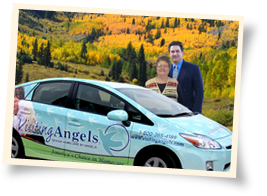 Visiting Angels of The Western Slope is a non-medical home care provider. Our staff includes PCA's, CNA's, RN's and LPN's that assist individuals in need of respite care and rehabilitation. We also assist people that need assistance post-surgery and seniors needing assistance living independently.
The Visiting Angels of The Western Slope office was purchased in December of 2012 and proudly services the mountain region. Our territory not only includes Eagle, Frisco, Dillon, Keystone, Breckenridge, Pitkin, and Garfield counties, but reaches as far as Grand, Routt, and Moffatt counties as well. We have caregivers all over the mountain region ready to help you or your family member and we are just a phone call away.
Our caregivers are here to provide quality care for elderly and disabled people to a level customized and personalized to each unique situation. We are there for the purpose of allowing the individual to remain comfortably and safely in their own home while maintaining a feeling of independence. Remember, when dealing with Visiting Angels, we are here to serve you. You are in control.
Our services include bathing, dressing, grooming, medication reminders, errands, and housekeeping. Our HIPAA compliant software provides 24/7 real-time information about what is happening on a daily basis with each client. The ability to provide this information is unique to our company and assists us in communicating with medical providers and family members such information as to how a client is following the doctors' orders at home.
How are your patients communicating their post-surgery and post office visit recovery?
How do you communicate with your patients, family, and/or persons watching your patients to see that the patient is:
Taking post-operative medication (timely and consistently)?
Wearing collars/Braces?
Checking for infection and signs of infection?
Moderating physical activity and restrictions?
Diet?
Pain management?
Changes in motors skills or cognition.
Do your patients have family members or anybody available to advocate for them? Have the people assisting your patients at home been educated to watch for signs of medical, physical, or mental changes?
The Visiting Angels' staff assigned to patients having specialized procedures often receive added training to ensure they maximize the care needed by each client. It is our intent to make sure we mitigate any possible complications. This is achieved by educating our staff to monitor and document a patient's recovery status.
Our HIPAA compliant computer system allows for our staff to make multiple verbal recordings throughout the day documenting the recovery of our clients. These verbal recordings are available for our client's medical providers and family to review 24/7 with a provided password. Upon calling in to our computer system, our staff members are prompted to answer numerous questions about the client's recovery. Some questions include:
Temperature fluctuations
Blood pressure and O2 levels
Changes in speech, mental status, and vision
Increased redness, soreness, and swelling at the surgical site
Pain relief/management
Complaints of the increasing severity of headaches
Nausea or vomiting - frequency
Shortness of breath
Any difficulty swallowing liquids
Fluctuations with sensation, numbness or tingling
We are always receptive to working with our medical providers and their staff to educate our caregivers to the specific needs of the medical provider.
Serving Aspen, Basalt, Carbondale, Glenwood Springs, Vail, Beaver Creek, Bachelor Gulch, Edwards, Avon, Frisco, Keystone, Breckenridge and Summit, CO
Visiting Angels
EAGLE, CO
124 Capitol Street
Eagle, CO 81631
Phone: (970) 328-5526