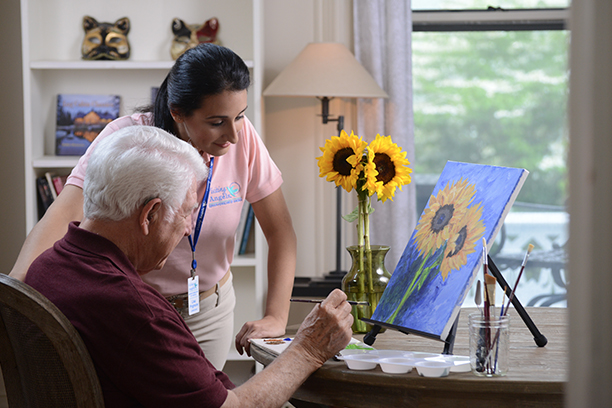 Why Visiting Angels
Families in DeKalb IL Trust Visiting Angels as Their Home Care Agency
Visiting Angels DeKalb IL is the area's go-to agency for in home care. Our locally owned and operated home care agency is run by people who are invested in providing reliable, compassionate care. We specialize in helping seniors maintain their freedom through independent living. If you have a loved one who needs the assistance of a trusted home care agency, Visiting Angels DeKalb IL is here to help.
Scheduling is Simple with our Home Care Agency
Visiting Angels DeKalb IL takes the hassle out of scheduling in home senior care. There's no need to re-arrange your schedule or adjust your routines in order to receive the care you desire. You simply tell us when you would like to receive assistance, the days of the week, times and duration, and we will make sure a qualified caregiver is there to help.
Customized Plans Take Care of You
At Visiting Angels DeKalb IL, we know patrons of our home care agency are not all the same. We understand each person we care for is a unique individual with their own health and wellbeing concerns. We aim to address your specific needs by offering customized care plans. We design your care from the ground up so we can tailor it to your requirements. At Visiting Angels DeKalb IL, our home care agency believes personalized care is the best care.
Your Safety Matters to Us
Part of our home care agency's mission is to keep your loved one safe at home. This starts with making sure our senior care professionals are qualified to provide reliable care. Through the use of background and criminal history checks, reference and previous employment verification, and one on one interviews, we take a comprehensive look at our applicants before deciding if they are suitable candidates. Only the cream of the crop go on to become Angel companions for our home care agency.
Ongoing Oversight is Standard
At Visiting Angels DeKalb IL, our home care agency feels maintaining continuous oversight of our services is important. In order to be sure our clients receive quality care, we provide regular monitoring of our caregivers. Professional staff from our agency will occasionally stop by during care hours to witness your care firsthand. Additionally, we place regular phone calls to gauge your satisfaction with our services.
For all of these reasons and more, Visiting Angels DeKalb IL is the home care agency you have been looking for. Call our office today to learn more.
Serving the Communities of DeKalb, Ogle and Lee Counties in Illinois
Visiting Angels
DEKALB, IL
3266 Resource Pkwy
DeKalb, IL 60115
Phone: 815-895-0200
Fax: 815-895-0300