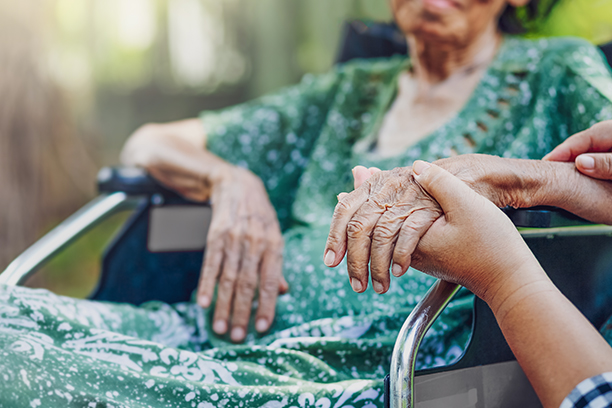 Delray Beach Senior Home Care Services
Select Your Caregiver®
Visiting Angels offers a unique approach to
Senior Home Care in Delray Beach
. Providing a self-directed model of
in-home care to Delray Beach residents
, we believe that you and your family should have a choice about where and how you live, as well as who will provide your care. That's why our personalized screening system is designed to maximize your peace of mind. You'll have the opportunity to interview and make the final decision on selecting any caregiver we refer to you before care begins. We pride ourselves on matching the needs of our clients with the experience, knowledge, and skill of pre-trained, professional, and thoroughly screened caregivers.
Nationally Known, Locally Owned
Since 2000, Visiting Angels serving Delray Beach has helped thousands of families by providing access to caregivers who can help
elderly residents in Delray Beach
live happier and more comfortable lives in the privacy of their own homes. With access to
one-on-one care
, 'Aging in Place' becomes a reality for you or your loved one. Professional caregivers referred by Visiting Angels can provide the following assistance for you or your loved one: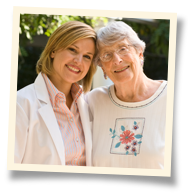 Bathing, Grooming and Dressing
Toileting and Incontinence
Walking and Fall Prevention
Mobility and Range of Motion Exercises
Transferring and Positioning
Medication Reminders
Self-Administration of Medication
Planning and Preparing Healthy Meals
Laundry and Light Housekeeping
Running Errands and Shopping
Transportation to Appointments
Household Organization and Light Housekeeping
Social Care and Meaningful Companionship
At Visiting Angels You Are In Charge
Visiting Angels will not dictate to you what your schedule is to be (i.e. what time to wake up, when to bathe, meal schedules etc.) You are the boss! Our consumer-directed model of care allows you and your caregiver to determine the scope of services to be rendered. Step one is a discussion with one of our Client Services Advisors. Through our free in-home consultation, we gain a clear understanding of you or your loved one's needs. Visiting Angels will then help you find a
caregiver
who can meet those needs. You get to customize your requirements and will never be asked to alter your routine or wants.
Safety and Trust
The safety of our clients is our highest priority. Each
referred caregiver
has gone through our comprehensive 3-tiered interview process. Thorough background checks are performed by local agencies, state officials, and the FBI.
Professional caregiver
licenses are verified and certification of required coursework is confirmed. Every Angel we refer has earned their wings!
Availability
Our caregiver registry is rich with experienced Certified Nursing Assistants (CNAs) and Home Health Aides (HHAs). Caregivers are available 24/7/365, mornings, mid-day, evenings and throughout the night.
Weekends and Holidays
Temporary or Long-Term Care
24 Hour Care
Respite Care in Delray Beach, FL
Providing care as a family member or friend requires giving up a generous amount of time. But no matter how much love or time you give, sometimes the burden of care becomes too much. Respite Care presents an opportunity to pass the strenuous areas of care onto a professional, so you can focus on what matters most. Friends and family members often find they can recover from anxiety, stress, or fatigue and spend quality time with their loved ones.
Delray Beach Senior Life Care Navigation
Professional, experienced and thoroughly screened caregivers referred by Visiting Angels can restore hope and energy to seniors by caring for their emotional, spiritual, and physical needs. Caregivers can provide this dignified and respectful service for the following areas:
Alzheimer's Care
Dementia Care
Companion Care
Personal Care
Delray Beach Alzheimer's Care
As many as 5.1 million Americans suffer from the devastating disease of Alzheimer's. Caregiving can become extremely difficult for those closest to the victim and we know how heartbreaking it is to witness a decline in memory and mental skills. We refer professional in-home caregivers who have received training in
Alzheimer's support in Delray Beach
. Their skills will allow your loved one to live as full a life as possible. The caregiver's efforts will let you to focus on enjoying time with your loved one and not be constantly distracted by their daily obstacles and health.
Dementia Care in Delray Beach, FL
When your loved one is diagnosed with dementia, one of the most worrying questions you'll have is, "Who will care for my loved one?" Thankfully, whether your family member has early-stage, mid-stage, or late-stage dementia, professionally trained and experienced caregivers can provide assistance to help them stay at home comfortably. At Visiting Angels we know how complicated tackling
Dementia Care for residents in Delray Beach
can be. We offer free care consultations to help you determine what care services are right for you or your loved one, and to answer any questions you may have.
Companion Care in Delray Beach, FL
Our caregiver registry has a healthy selection of professional and experienced caregivers who focus on making life less lonely for seniors in Delray Beach. Companion Care is perfect for families who are struggling to juggle their own commitments. A professional caregiver referred by Visiting Angels ensures that you or your loved one has someone to talk to, laugh with, and enjoy hobbies with.
Delray Beach Personal Care
If you or your loved one suffers from muscle weakness, limited mobility, or other physical difficulties then senior home care in Delray Beachcan help them live a comfortable life, independently. Caregivers can assist with a wide range of activities of daily living that may have become cumbersome to carry out alone.
Hospital Transition Care in Delray Beach, FL
When families in Delray Beach are in need of transitional care for a loved one, they turn to Visiting Angels. We can help your loved one avoid becoming a statistic by providing referrals for
non-medical aid at home
after an inpatient hospital stay. Over 2.6 million seniors per year are readmitted to the hospital within the first 30 days after discharge. Transitional care referrals from Visiting Angels can help.
Delray Beach Fall Prevention
Falls don't just happen. There are causes and they can be avoided. A simple trip may have been caused by arthritis, poor eyesight, medication, dehydration, or a lack of grab bars. But with the helping hand of a
professional caregiver referred by Visiting Angels
, seniors can walk and move in and outside their house safely.
Delray Beach Social Care
We know from experience that healthy mental well-being is just as important as physical and logistical needs. Caregivers can assist seniors with access to social life in many ways, including through the internet; with cell phones, email, Facebook, Skype, and FaceTime to ensure they can stay connected with family and friends.
End of Life Care in Delray Beach, FL
End of life care services give
Delray Beach seniors
the chance to remain in the privacy of their own home, with a focus on comfort, dignity, and peace during the end-of-life process. Caregivers referred by Visiting Angels can provide high-quality support and assistance for your loved one and your family during this time of need. You and your loved one can focus on the things in life that matter most. Caregivers can provide non-medical support to:
Minimize any discomfort
Assist with personal tasks such as dressing, bathing, and daily hygiene.
Take care of any aspects that can make the journey easier for your family.
Provide a comforting presence to relieve feelings of fear, isolation, and anxiety.
Free up time for you and your family to enjoy quality time together.
This webpage contains links to other webpages that were developed by Visiting Angels Corporate for offices that operate a different type of business model and do not reflect the business practices of Visiting Angels of Delray Beach, a Florida licensed nurse registry.
Serving Palm Beach County, Florida
Visiting Angels
DELRAY BEACH, FLORIDA
5300 W Atlantic Ave Suite 102
Delray Beach, FL 33484
Phone: 561-865-9040
Fax: 888-834-0655
NR30211262