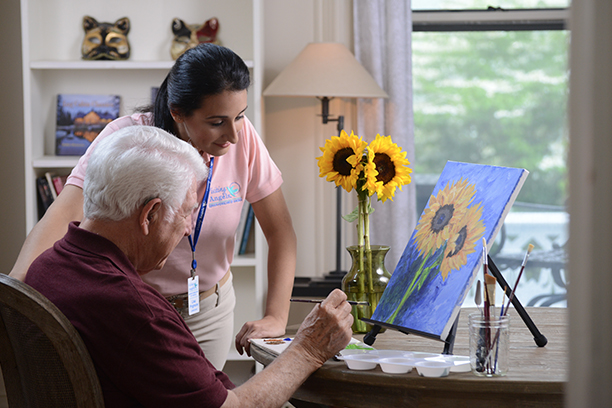 Transitional Care in Desoto Helps Avoid Hospital Readmissions
Ready-Set-Go Home with Transitional Care
Many families are surprised to learn that one of every five seniors is readmitted to the hospital within 30 days from their discharge. At Visiting Angels® of South Dallas & Ellis County, we offer a comprehensive hospital-to-home transitional care plan that helps seniors avoid hospital readmissions. Called Ready-Set-Go Home, our transitional care program provides professional non-medical in-home care so that when seniors return to their homes after a hospital stay, they can happily stay at home in the Desoto area.
How Transitional Care Helps
At Visiting Angels of South Dallas & Ellis County, we recognize that seniors face several challenges while in the hospital, as they prepare to leave, and when they return home that can contribute to readmission. Our Ready-Set-Go Home program addresses these issues:
Lack of a hospital discharge plan. Before leaving the hospital, at your request, a Ready-Set-Go Home caregiver will meet with your loved one's medical team to create a detailed transitional care plan using our Discharge Planning Guide.
Trying to manage at home alone. Recovering alone can be especially difficult for seniors. At Visiting Angels of South Dallas & Ellis County, our caregivers provide non-medical transitional care that includes: bathing and dressing assistance, preparing nutritious meals or special diets, light housecleaning, arranging delivery of medical supplies, prescriptions, and special equipment, running errands, and monitoring fluids and medications.
Exhaustion. With the chaos, unfamiliar schedules, and constant interruptions, seniors can become exhausted while in the hospital. Our understanding transitional care professionals help them get the rest they need so they can regain their strength in the comfort of their Desoto home.
Failing to follow discharge instructions. Our transitional care providers ensure your loved one follows their doctor's aftercare instructions. We can monitor fluids and eating, as well as drive your loved one to their follow up medical appointments.
Medications. Transitional care providers from our Desoto office can monitor and make sure that prescriptions are taken on schedule per doctor's orders.
At Visiting Angels of South Dallas & Ellis County, we care about your loved one. When you choose our in-home care agency for transitional care, you can rest assured that they will be receiving quality care. We can work together to avoid expensive hospital readmissions while enriching the life of your loved one.
If you have a loved one in the hospital or scheduled for a hospital stay, call Visiting Angels of South Dallas & Ellis County today to schedule a no-cost, no-obligation consultation. Families in Desoto, Midlothian, Ennis, Waxahachie, Cedar Hill, Duncanville, and Lancaster, TX have found Ready-Set-Go Home transitional care to be successful in avoiding hospital readmissions for their loved ones.
Serving Cedar Hill, Desoto, Duncanville, Lancaster, Midlothian, Waxahachie, Grand Prairie and Surrounding Areas
Visiting Angels
SOUTH DALLAS & ELLIS COUNTIES TX
610 Uptown Blvd #4600
Cedar Hill, TX 75104
Phone: 469-356-2680
Fax: 469-356-2681