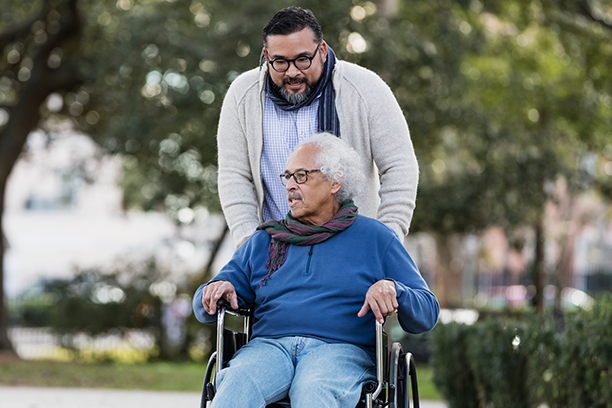 How a Caregiver from Visiting Angels Humble Can Help
As we grow older, a wide array of challenges can make aging in place more difficult. At Visiting Angels Humble, we know how varied seniors' care needs can be. That's why our caregivers strive to deliver truly comprehensive care to our clients through the Humble area. We match each client with specialized care so that all of their needs are taken care of. If you have a loved one in the Humble area who requires a caregiver's helping hand, the team at Visiting Angels Humble will offer your loved one the care they need.
Caregiver Assistance with Physical Difficulties
If your loved one is suffering from physical disability or decline, the caregivers at Visiting Angels Humble can help make day-to-day living more manageable. Our caregivers can assist seniors with difficult tasks or perform those tasks if seniors are unable to do them on their own. We offer assistance with tasks like dressing, grooming, toileting, mobility, and light housekeeping. This makes life at home easier for seniors coping with frailty, joint pain, back pain, and mobility concerns.
Memory Care for Humble Seniors & Families
Cognitive decline is a common problem for seniors. If your loved one has been diagnosed with a form of dementia or is starting to become more forgetful and easily confused, a caregiver's support can help make daily living more navigable. Our caregivers help Humble seniors suffering from cognitive decline by prompting them with helpful reminders, watching over them to keep them safe, and keeping them company so they feel comfortable and secure.
Lifestyle Care & Non-Medical Health Care
Caregivers from Visiting Angels Humble can provide non-medical healthcare and lifestyle care to help your loved one lead a healthier lifestyle. Our caregivers provide non-medical support to seniors coping with conditions like diabetes, COPD, Parkinson's, and heart disease. We also make it easier to follow doctors' orders by planning and preparing healthy meals, monitoring seniors at risk of health events, and encouraging light exercise like daily walks or gardening.
Caregiver Companionship for Humble Seniors
When seniors become isolated from the rest of the world, their health and wellbeing can quickly decline. If you worry that your loved one doesn't have enough one-on-one interaction in their life, our caregivers can help by providing your loved one with companionship and conversation.
Select Your Caregiver® through Visiting Angels Humble
Thanks to our Select Your Caregiver® program, you and your loved one will have a voice in the caregiver selection process. We coordinate a meeting with a caregivers who we think would be a good fit for your loved one, setting up the meeting in the comfort of your loved one's home. You then get to decide if the Visiting Angels Humble caregiver we selected would work best with your loved one's personality and needs.
Contact Visiting Angels Humble today to set up a free caregiver consultation for your loved one.
Serving Kingwood, Humble, Baytown, Pasadena and the Surrounding Areas
Visiting Angels
HUMBLE, TX
510 2nd St
Humble, TX 77338
Phone: 281-812-1530