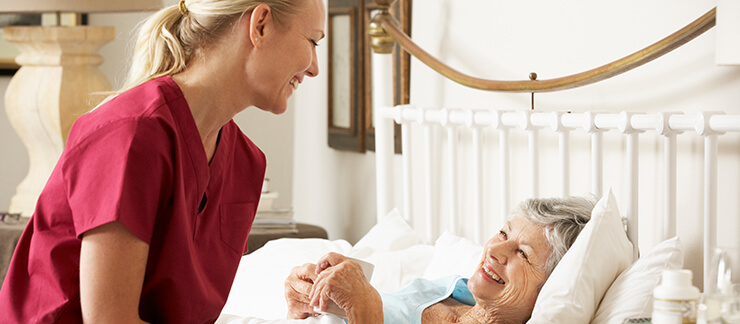 How Palliative Care is Different Than Hospice
People may use the words interchangeably, but the terms hospice care and palliative care are not the same. There may be some overlap in services provided—and both are intended to provide comfort and a better quality of life for the recipient—but the primary distinction is timing. And when it comes to people and illness, even that is a complicated issue not easily pinned down.
Palliative care begins at diagnosis and aims to help your loved one recover from injury or illness. Professional caregivers can supplement this effort. They provide comfort and maintain your loved one's quality of life alongside the specialized medical palliative care the person is receiving.
Individuals living with a diagnosis of dementia, heart or lung disease, kidney failure, HIV/AIDS, cancer, ALS, COPD, and other illnesses can receive palliative care services in addition to regular treatments and care.
Palliative care is not just about the body: a cancer diagnosis, for example, can include emotional, social, practical, and spiritual side effects. It can result in job loss, depression, fear of death, and more. No matter who the person is or what the diagnosis and prognosis are, life will change for all involved. Palliative care takes the ripple effect of the disease into account, offering multidisciplinary care services, practical support, and comfort measures beyond basic pain management.
So while a doctor or nurse may be servicing the medical needs of your loved one, a professional caregiver can tend to his or her emotional and social needs.
Because services meet a range of needs that aren't always medical, the palliative care team is a real caregiving village and may include social workers, chaplains, nurses, massage therapists, doctors, nurses, registered dietitians or nutritionists, and psychologists. According to Medline, any healthcare provider is equipped to provide medical palliative care, though there are those who specialize in this area. That said, palliative care can be delivered in and through many settings: hospitals, long-term care facilities, cancer centers, and home care agencies.
Pain management and quality of life are often most important, but the scope of services is quite broad. Among the options for palliative care: occupational or physical therapies, alternative medicines, nutritional guidance, transportation, and housing resources, referrals for mental health providers, support groups, or counseling. A professional caregiver can also work with families and individuals on understanding a prognosis, complex medical forms, and treatment choices.
Hospice care begins when treatment has ended and the person is not expected to live through or recover from the illness or disease. Per Medline, hospice is offered when a person is given six months or less to live. The time frame is not a hard science since every person's disease course is different, and every provider's end-of-life philosophy is also distinctive. Some people may only receive hospice for a few days, others several weeks and others still may be taken off hospice if their health status changes.
Hospice care is elective. If an individual decides to pursue treatment for a disease, he or she could be taken off hospice care until later in the disease process. It's important to note too, per the UPMC Palliative and Supportive Institute, that not all treatments must be discontinued to be eligible for hospice care. Curative treatment for the terminal illness will not continue, but if a person takes medication to treat a condition causing high blood pressure, she can continue that course of meds.
Like palliative care, people who are eligible for hospice services are living with an incurable illness or terminal diseases such as Alzheimer's, cancer, heart disease, or a range of other diagnoses. The debilitating effects of a stroke can also prompt the need for hospice care.
Hospice care is multidisciplinary in its delivery, similar to palliative care. The news that a person is nearing the end of life can have devastating effects on the individual—and that person's family and friends. Besides physical comfort measures, hospice care addresses the need for emotional and spiritual support, guidance on grief, loss, depression, and practical assistance with the necessary paperwork, for example.
As with palliative care, a multidisciplinary approach means a diverse team of care providers. A primary care physician is usually still involved, but a hospice physician may also join the team—alongside nurses, trained volunteers, home health aides, social workers, clergy or other spiritual advisors and counselors, and speech, physical, or occupational therapists. Hospice can be provided in a freestanding hospice facility, in the person's home, a hospital, or other long-term care facilities.
According to the National Hospice and Palliative Care Organization (NHPCO), pain and symptom management, special services like speech or physical therapy, bereavement care for family and friends, the provision of medical supplies, equipment, or prescribed drugs, and coaching for family members on how to care are among the services a hospice team delivers. If a primary caregiver needs respite, hospice can also provide short-term inpatient care (for difficult symptoms or pain management issues). Again, these will vary based on the diagnosis, prognosis, and individual preferences.
What Does Medicare Cover?
If you or a loved one has Medicare Part A and qualifies for hospice care (three requirements must be met: the acceptance of care versus a cure, a signed statement, and certification from a hospice doctor and the PCP), Medicare will cover everything you need related to your terminal illness. But, care must be delivered by a Medicare-approved provider.
For a better understanding of what Medicare will and won't cover in regards to hospice care, and to find a Medicare-approved provider, consult this official Medicare Hospice Benefits booklet.
Regarding paying for palliative care, Medicare Part B may cover some treatments. Medicaid may also be used to access some palliative care medications and treatments, as well as some private insurance, HMOs, and managed care plans.
If a loved one was recently diagnosed with a terminal illness or seems to be quickly approaching the end of life, reach out. Talk to the primary care physician about options. Discuss plans and determine eligibility, both physically and financially. Access these invaluable services to ensure dignity and the best possible quality of life regardless of how much time is left.