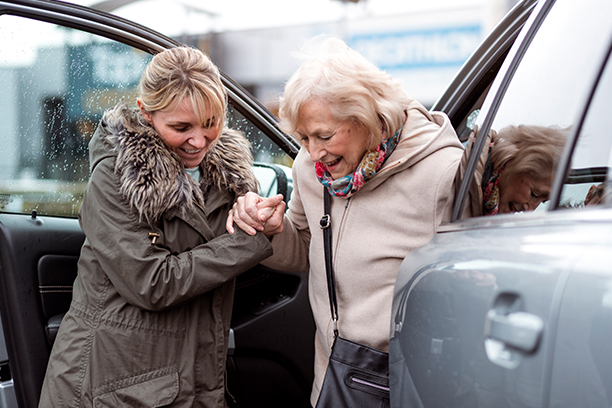 How Transitional Care in Fort Atkinson Reduces Hospital Readmissions
Ready-Set-Go Home with Transitional Care
After a lengthy hospital stay, will your loved one be able to make a full recovery? Transitional care could increase their odds of successfully recovering and minimize their risks for a return to the hospital. At Visiting Angels® Fort Atkinson, we've developed a care program specifically for seniors who are scheduled for a hospital discharge. Called Ready-Set-Go Home, this program includes support while seniors are hospitalized and during their transition back to their normal routine at home.
Why is Transitional Care Important?
Hospital readmission rates are quite high among the elderly. In fact, statistics show that nearly 20% of seniors on Medicare are readmitted to the hospital within only thirty days of returning home. Rehospitalizations can be both stressful and costly for seniors and their family members. They can also lower the likelihood patients will regain their previous levels of functionality and independence.
Transitional care can be crucial in preventing hospital readmissions. Following a hospital discharge, seniors often feel weak or lack the energy needed to complete basic activities. They may also face mobility limitations that make day-to-day tasks a challenge. Without external help with these tasks, they could fail to follow their doctors' instructions and consequently experience a decline in their physical well-being. When these individuals have a dedicated transitional care provider from Visiting Angels Fort Atkinson by their side, they can be sure to take medications as prescribed, eat healthy meals regularly, and have help with bathing and grooming routines.
How Visiting Angels Fort Atkinson Helps
We help our care recipients by first meeting with them during their hospitalization. We discuss the upcoming discharge with patients and their family members to provide crucial information about how they can prepare for this change. As part of this process, we also provide care recipients with our Ready-Set-Go Home discharge planning guide.
Next, we deliver in-home care for seniors once they leave the hospital. These supportive services are tailored to the unique needs of each care recipient and can include help with preparing meals, running errands, completing personal care tasks, and more.
We also have a team working at our office to promote seniors' recovery. Our staff members have access to innovative tools used to recognize high-risk clients, coordinate care, and arrange important reminders.
Call Visiting Angels Fort Atkinson today for a free transitional care consultation! We can meet with your family in Fort Atkinson, Delavan, Elkhorn, Janesville, Waterloo, Jefferson, Milton, Johnson Creek, Lake Geneva, Lake Mills, Watertown, Stoughton, Whitewater, or the surrounding areas.
Serving Jefferson, Rock, and Walworth Counties, WI
Visiting Angels
FORT ATKINSON, WI
1001 Madison Ave #C
Fort Atkinson, WI 53538
Phone: 920-568-1051
920-568-1052
Fax: 920-568-1055