Prevent Wandering with Dementia Care Services in Fort Wayne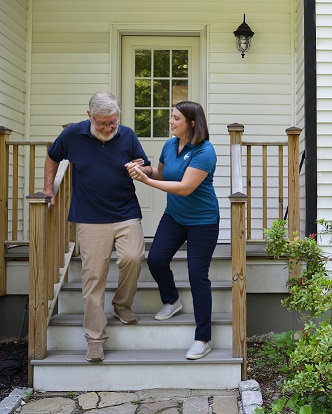 With our dementia care services for local seniors, Visiting Angels® Fort Wayne can help your family manage this difficult situation. Seniors who are diagnosed with dementia suffer from a range of different issues. One of the most concerning problems, is that they often fail to recognize familiar places and people. This leads to confused wandering, which can be a very big safety risk.
With our customized care, we provide a warm, caring, and attentive presence to help minimize the risk of wandering and help your loved one in a number of ways. Our goal is to provide a stable home life so they can avoid the move to a care facility and remain in a familiar environment. Life at home can provide many wonderful benefits for those with memory-based disorders, and we are proud to work with you to make it possible.
In addition to our one-on-one support around the house, we'd also like to offer some helpful suggestions for spotting the warning signs of wandering. Let's take a look at a few behaviors that may indicate your loved one is at risk.
Warning Signs of Wandering
As a relative of someone with dementia, your job is to pay attention to the signs of memory decline that can lead to wandering. Here are some potential signs that wandering may become an issue:
They take longer than normal to return home.
They speak about the past in the present tense.
They request to return 'home' when they are already there.
They move in a repetitive and fidgety manner.
They fail to remember where their own bedroom and bathroom are located.
They seem tense and scared when out in public.
Kind and Loving Dementia Care Services for Fort Wayne Area Families
By setting up a support plan and being mindful of the warning signs of wandering, you can protect your loved one from this terrible issue. With our dementia care, we offer flexible scheduling and customized support for each senior. Our loving home care providers can help with household tasks, home safety issues, memory assistance, and more. We also help to provide caregiving relatives enjoy some much-deserved relief.
To get started, we would like to invite your family for a free initial care consultation where we'll discuss your needs in greater detail. We offer our assistance to families throughout:
Fort Wayne
Huntington
Columbia City
Northeast Indiana
and the surrounding areas
For further details about our dementia care services, contact Visiting Angels Fort Wayne and arrange your care consultation today.