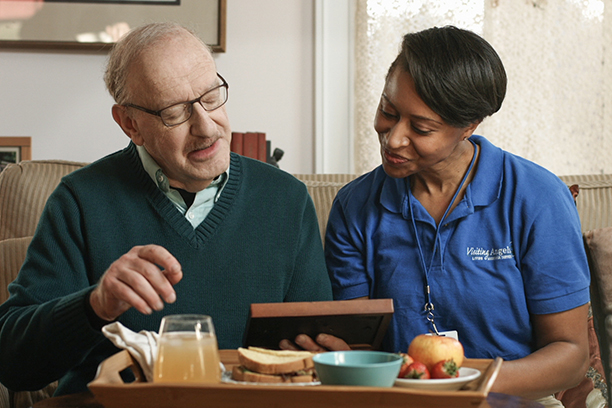 Transitional Care in Rockwall TX Helps Avoid Hospital Readmissions
Ready-Set-Go Home with Transitional Care
For many seniors, there is nothing worse than having to endure a long hospital stay. Not only is hospitalization costly and stressful, it's also an unwelcome interruption to daily life. So when a senior is discharged and can finally return home, the last thing they want is to be readmitted. But for most seniors recovering at home, extra support and assistance is often needed to avoid rehospitalization. That's why at Visiting Angels® Garland, we offer our Ready-Set-Go Home transitional care program to seniors and their families in Garland, Wylie, Rowlett, Rockwall TX, and the surrounding communities. Our skilled caregivers provide the extra hand many seniors need to avoid hospital readmission.
How Transitional Care Can Help
If you have a loved one returning home from hospitalization due to injury, illness, or surgery, you probably have concerns about their safety and well-being, such as:
Will they remember to take their medications on time?

Can they follow their doctor's discharge instructions correctly?

How will impaired mobility impact their ability to bathe, prepare meals, and move around their home?

Who will tend to their needs if they are feeling tired or weak?

If they have new symptoms or aren't feeling well, will they report it to their physician?
Lack of support in these areas can leave seniors vulnerable to hospital readmission. In fact, 1 in 5 seniors released from the hospital is readmitted within 30 days. At Visiting Angels Garland, we're committed to helping seniors avoid readmission and remain in the comfort of their own home in Rockwell TX during their recovery by providing the highest quality transitional care services and caregivers.
Transitional Care Professionals in Rockwall TX
Transitional care can be the difference between recovery and readmission for many seniors in Rockwall, TX and the surrounding areas. That's why Visiting Angels Garland offers the Ready-Set-Go transitional care program to seniors in the Rockwell TX area. From the moment your loved one enters the hospital, to their discharge and in-home recovery, a caregiver from Visiting Angels Garland can be there to provide guidance, support, and assistance. We offer a wide range of transitional care services in Rockwell TX, including:
Helping your loved one stay on track with doctor's aftercare instructions

Ensuring the right doses of medication are taken at the right time

Planning and preparing meals based on dietary requirements and restrictions

Assisting with household tasks like laundry, vacuuming, and changing linens

Monitoring fluid intake to prevent dehydration

Providing much-needed respite for family caregivers
At Visiting Angels Garland, our transitional care plans are customized to your Rockwell TX loved one's needs and schedule, and if their needs change, so can their plan. Our caregivers are available on a full-time or part-time basis when your loved one needs assistance, 24 hours a day, 365 days a year, including holidays. And if we're needed unexpectedly, seniors and their families can call our after-hours line and we'll return your call in 15 minutes or less.
For more information about transitional care services in the Rockwall, TX area, call Visiting Angels Garland today for a no-cost consultation.
Serving Communities: Fate, Heath, Lucas, Quinlan, Rockwall, Rowlett, Royse City, Sachse, West Tawakoni, Wylie
Visiting Angels
GARLAND/ROCKWALL, TEXAS
3631 Broadway Blvd
Garland, TX 75043
Phone: 214-703-8123