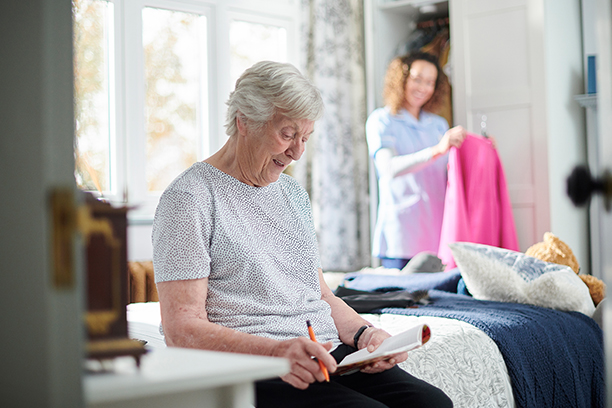 How We Assist With Aging in Place in Helena
By aging in place, your loved one can spend their golden years where they feel most content. At Visiting Angels® Helena, we provide in-home care for elderly adults who need a helping hand with basic activities. Through these personalized services, we give care recipients confidence and much-needed assistance so they may extend their years at home and preserve their autonomy for as long as possible.
The Importance of Aging in Place in Helena
It's likely your loved one envisioned spending their golden years in the place they call home. Doing so could allow them to enjoy important benefits other care solutions would fail to provide.
When seniors are able to live life on their own terms, they can maintain a sense of purpose that is integral to their happiness. In addition, they can remain in a familiar environment that was crafted specifically for their comfort and personal preferences.
As they retain full control over their daily activities and routines, seniors who age in place can engage in those soothing little rituals that help them feel like themselves. Whether your loved one likes to take a walk around the neighborhood, look through old photo albums, or visit their neighbors, these kinds of activities may be crucial to their overall well-being.
In-Home Care vs. Assisted Living
Unlike in-home care, which gives seniors a say in how they spend their time, assisted living often comes with certain limitations. For example, residents of assisted living centers typically have to follow dictated schedules and have fewer options for hobbies and free time activities. On top of this, they must leave their cherished homes behind, which can be incredibly traumatic.
It should also be mentioned that assisted living isn't always the best choice for seniors' health in general. Studies have recently proven that elderly adults in assisted living centers have poorer health outcomes than those who receive care while aging in place.
How Visiting Angels Helena Helps Families
We help seniors embrace the many benefits aging in place can provide while minimizing their risk of experiencing loneliness or isolation. Our compassionate care professionals work to assist elderly adults with their daily routines and focus on building relationships care recipients and their families can rely on. As our services can be customized to accommodate a wide range of age-related needs and caregiving preferences, we can easily build a schedule of care visits that makes aging in place a reality for your loved one.
Get started with a free in-home care consultation in Helena, Great Falls, Cascade County, Butte, Jefferson County, Powell County, or a community in the surrounding areas today! We encourage you to contact Visiting Angels Helena for details about how we can help your loved one have a positive experience with aging in place.
Serving Helena, Great Falls & Butte
Visiting Angels HELENA, MT
1050 Helena Ave #3
Helena, MT 59601
Phone: 406-630-1800
Fax: 406-513-1011