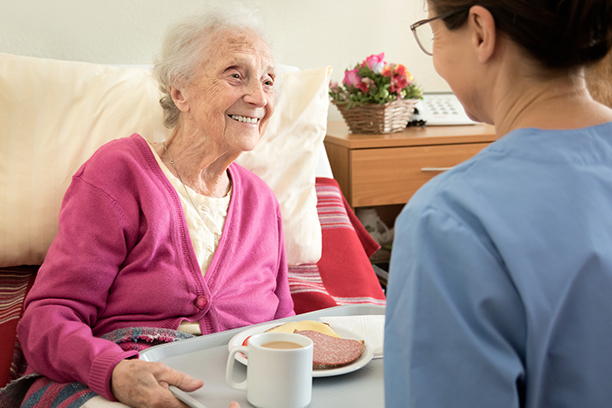 Alzheimer's Care in Marble Falls
Has your loved one recently received a diagnosis of Alzheimers or dementia? Or have you been struggling to cope with their memory loss for a long time already? Whatever the case may be, it is never too early or too late to get help. Alzheimer's care can ease the suffering of an elder with Alzheimers, and lift the burden off the shoulders of family caregivers at the very same time. At Visiting Angels Marble Falls, we offer Alzheimer's care services that do that and then some. By pairing the exceptional service we're known for with a range of services that address the unique needs of seniors with memory loss, we are changing the lives of seniors across Cottonwood Shores, Meadowlakes, and Marble Falls.
Remaining at Home in Marble Falls
Too often, the difficulties that come with aging force seniors to relocate from their treasured homes to assisted living facilities. Making that decision is never easy, though, and many family caregivers feel they have no other options. However, Visiting Angels Marble Falls can offer an alternative by providing high quality Alzheimer's care right in your loved one's home. With skilled hands and patient hearts, our caregivers can not only help to safeguard your relative's health, but can also offer much-needed stability and restore independence to their everyday lives.
Marble Fall's Alzheimers Care Experts
The Alzheimer's care we offer at Visiting Angels Marble Falls was developed hand-in-hand with the Alzheimer's Foundation of America. That means your loved one will receive skilled, top-quality care with our signature compassionate touch. From keeping them on top of their medications to lending a helping hand with household chores and everyday tasks, our range of non-medical Alzheimer's care services offers everything your loved one needs to stay happy and healthy at home.
Alzheimer's Care When You Need it Most
When it comes to Alzheimer's and dementia, there's no switch that turns it on and off. Visiting Angels Marble Falls understands that, so we make sure our Alzheimers care is available whenever you need it. Whether that's just once in a while to give you a chance to get some rest and return refreshed, or twenty-four seven for an elder with more intensive needs, we'll create a schedule that's right for you.
To get started professional Alzheimer's care you can trust, call Visiting Angels Marble Falls today to schedule your free, in-home consultation.
Serving Marble Falls, The Highland Lakes & Hill Country Areas
Visiting Angels
HIGHLAND LAKES, TX
706 4th St
Marble Falls, TX 78654
Phone: 830-637-7118