Alzheimer's Care in Huntsville: When is it Time?
Finding that a parent or loved one has been diagnosed with Alzheimer's can leave family members with a number of questions and concerns. One of your biggest worries might be about what type of support your loved one needs, and when they will need to rely on the Alzheimer's care services available in the Huntsville, AL area.
While Alzheimer's disease affects different seniors in different ways, it's a good idea to be proactive about relying on care. Alzheimer's care from Visiting Angels® Huntsville care can help your loved one get the support they need to maintain a high quality of life at home where they are most comfortable.
To help you decide if your loved one in Huntsville, Decatur, Athens, Madison, Meridianville, Hartselle, or the surrounding areas could benefit from Alzheimer's care, we've created a list of the most common signs it's time for care.
When Seniors in Huntsville Need Alzheimer's Care
Just some of the signs your loved one in the local area could benefit from care from Visiting Angels Huntsville include: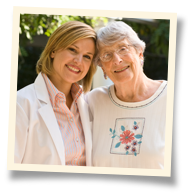 Trouble Caring for Themselves. Weight loss, a messy house, and poor personal hygiene, could all be indicators that your loved one is having a hard time living safely on their own. An Alzheimer's care provider can support your loved one in the Huntsville area by offering meal preparation, help with shopping and errand running, personal care, and more.
Wandering. Alzheimer's can leave seniors disoriented and confused even in familiar surroundings. Caregivers can be there to offer monitoring and wandering prevention. They can also reassure your loved one, helping them cope with the anxiety and agitation associated with Alzheimer's disease.
Problems Taking Medications. Taking specific medications at the right times can be challenging for those with memory disorders. A care provider can offer medication reminders and other helpful cues such as reminding your loved one to eat, bathe, and attend appointments and events.
Caregiver Burnout. Providing care to a loved one with Alzheimer's can be exhausting and overwhelming. Alzheimer's care can ensure your loved one in the Huntsville, AL area has the support they need to live safely while you and your family find the respite you so desperately need.
If you think your loved one could benefit from Alzheimer's care, our compassionate caregivers at Visiting Angels Huntsville can help. Call us today to learn more about our services.