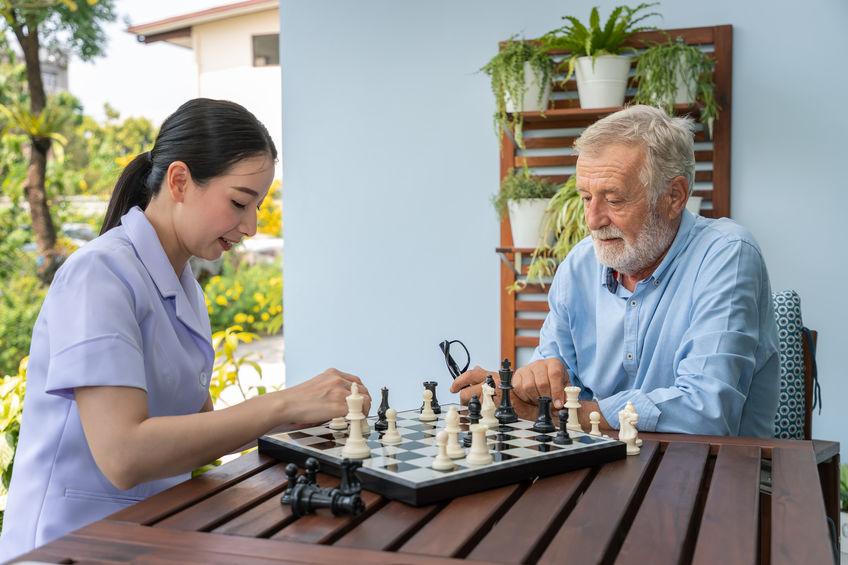 Four Habits that Keep Your Mind Sharp and Focused
This March, we contemplate our magnificent brains, and we consider the best ways to engage and protect them. March is Brain Injury Awareness Month. It's our annual opportunity to learn more about traumatic brain injuries (TBI). The CDC explains: "TBIs, caused by an impact or force to the head or body or a penetrating injury to the head, affect millions of U.S. persons each year. Falls are a leading mechanism of TBI, and older adults are at increased risk for sustaining a TBI and experiencing TBI-associated adverse outcomes."
Creating safe spaces and habits in the home is key. It is likewise important to make healthy lifestyle choices that keep the brain active. While the cognition of older adults may get slower when it comes to tasks like recalling names or multitasking, according to the National Institute on Aging, their skills also get richer: "Aging may also bring positive cognitive changes. For example, many studies have shown that older adults have more extensive vocabularies and greater knowledge of the depth of meaning of words than younger adults."
Consider these tips for protecting and enriching your beautiful brain this March.
Fall prevention
The CDC reports that falls are the leading cause of injury and injury-related deaths among older adults; 36 million adults fall each year, causing more than 32,000 deaths. One of every five of those accidents results in a broken bone or a head injury.
Falls are predictable and are often caused by the same issues: medical illness, physical ailments, and dangerous factors in the home environment. Visiting Angels Hurst is dedicated to educating older adults, their families, and caregivers about these dangers. Our goal is to help older adults maintain their independence. Through our Fall Prevention program, we help our clients and their family create safe and healthy spaces.
Read
Reading is such a joy. Although there are many ways to experience a story, there is nothing like the thrill of getting lost in a great book. Our brains love it too:
"Some research supports this idea that reading can help improve memory. In one study, researchers tested almost 300 older adults' memory and thinking ability every year for six years, and the participants answered questionnaires about their reading and writing habits. . . Those who reported that they read were protected against brain lesions and tangles and self-reported memory decline over the 6-year study. In addition, remaining an avid reader into old age reduced memory decline by more than 30%, compared to engaging in other forms of mental activity. Those who read the most had the fewest physical signs of dementia." Writes Dr. Alan Castel for Psychology Today.
Libraries have been remarkably accommodating during the pandemic. Many even offer special services for older adults like delivery and curbside pickup. So, dig out your library card and grab a good read!
Play
Start doing the daily crossword puzzle in the newspaper. Play Scrabble on a board or online. If you've been fully vaccinated, talk with your doctor about whether it might now be safe for you to go out and play cards with friends. Playing games is fun. It's engaging and exciting. It's a joyful experience when we get to be in the company of others working towards a shared goal. Our brains relish all of that. So, make sure to give your brain plenty of opportunities to play!
Meditate
Meditation comes from an ancient practice that some believe dates back as far as 5,000 years BCE. People of all faiths can engage in meditation.
This practice is good for the brain. The Cleveland Clinic shares on its blog: "As critical as it is to move your body, it is equally important to sit quietly and just breathe. In our goal-oriented, multitasking society, this may seem like a waste of time. Yet one group of scientists found that practicing mindfulness for an average of 27 minutes per day increased gray matter density in the hippocampus after just eight weeks."
If you don't have experience with meditation, consider signing up for a class or grabbing a book on the topic at your local library. Thich Nhat Hanh's How to Sit is a mindfulness essential and an excellent place to start.
Remember
Your Visiting Angels Hurst Caregiver is on your side to help support your brain health. If you need a partner for a card game, you can deal her in. If you want a ride to the library, he will pick you up. We've got your back! Contact us online or give us a call at 817-952-3223 to learn more.