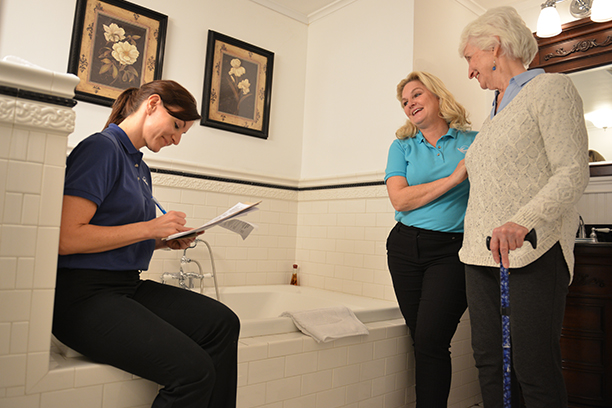 Why Visiting Angels
Choose Visiting Angels Longview TX for Elderly Home Care Services
When a loved one needs help at home, Visiting Angels Longview TX can help. Our elderly home care services are designed to provide the one-on-one help and support many seniors need at home. We match our experienced and friendly caregivers with seniors in Kilgore, Overton, Gladewater, and throughout the Longview TX area. With elderly home care services, your loved one can live safely at home.
It's Your Schedule…Keep It!
Most people have a daily routine they like to follow. Getting up at a certain time, eating favorite foods, watching the same TV shows, and participating in favorite activities brings comfort and familiarity to the day. When your loved one chooses elderly home care services from Visiting Angels Longview TX, he or she will be able to keep their routine. We never ask a client to change their schedule to accommodate our needs. Our job as caregivers is to learn your loved one's routine and do everything we can to make their day more enjoyable.
We Provide Trustworthy Elderly Home Care Services
Visiting Angels Longview TX is a bonded and insured elderly home care agency. We have been licensed by the state of Texas to provide non-medical at home care. Our caregivers must all pass a drug screen and comprehensive background check, including a criminal history check, prior to becoming a Visiting Angel. We insist on hiring only trustworthy individuals for our team.
Continuous Monitoring for Quality Care
Continuous care comes standard with elderly home care services from Visiting Angels Longview TX. Our administrative team calls and visits all our clients at home to ensure they are getting along well with their caregiver. We don't initiate services and then let them run on auto-pilot. We are in regular contact with our caregivers and our clients to ensure the best possible care is being provided.
Personalized Care Plans to Meet Your Needs
Each client of Visiting Angels Longview TX receives a personalized elderly home care plan. Our care plans explain the services the caregiver will provide and set a schedule of at home visits. Elderly home care plans can be updated at any time to accommodate changing needs or schedules.
Please call our Longview TX office today to learn more about our elderly home care services and how we can help your loved one.
Serving Tyler, Longview and the Surrounding Areas
Visiting Angels
LONGVIEW, TX
1705 Judson Rd #101B
Longview, TX 75601
Phone: 903-215-8183
903-215-8184
Fax: 903-215-8933