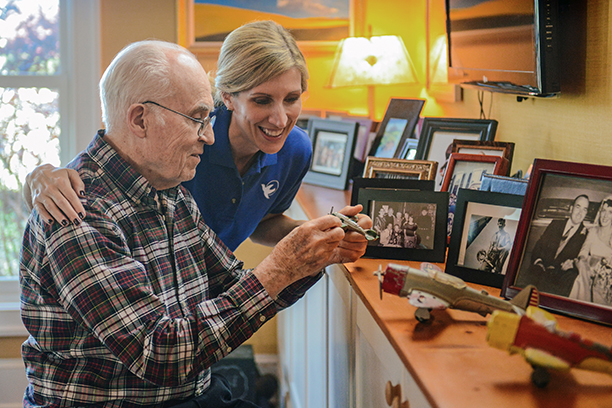 Our Character
Compassionate Home Care Services from Visiting Angels Magnolia TX
Visiting Angels Magnolia TX is a living assistance agency providing at home care services to seniors and the disabled. Our Magnolia TX office provides compassionate home care in Cypress, Decker Prairie, Jersey Village, Shenandoah, Tomball, and in communities throughout Montgomery County. Our friendly and kind home care professionals can help your loved one live safely at home.
Many seniors struggle to keep up with basic tasks around the house. With age, it can become more difficult to make healthy meals, do the laundry or keep the house clean and tidy. When these types of problems start to arise, many families assume a move to assisted living is the only way for Mom or Dad to live safely. At Visiting Angels Magnolia TX, we know there are other options. Our at home care services provide the one-on-one support your loved one needs to continue living at home.
When you choose Visiting Angels Magnolia TX for home care services, your loved one will be matched with an experienced and compassionate home care professional. Each caregiver on our team has been chosen for their ability to provide a superior level of care while helping their clients to feel at ease. With Visiting Angels Magnolia TX providing home care services, you'll be able to choose the caregiver you want to work with.
Each caregiver on our team is a compassionate professional who understands the important role they play in their client's life. Perhaps they are the one making a daily check in visit to help make a meal because family lives several hours away. Or maybe our home care professional is the one who is there to provide care and companionship during the day while family members are at work. Maybe our home care professional is the one who stays awake all night long monitoring their client's well-being so family caregivers can get a good night's sleep. No matter the reason our home care professionals are visiting your loved one at home, they will be there with a smile on their face and a willingness to help.
Finding a compassionate home care provider who can help your loved one feel comfortable is important. You can find an experienced home care provider who is friendly and outgoing at Visiting Angels Magnolia TX. Call our office today to find a home care provider who can make it possible for your loved one to continue living at home.
Serving Communities of Katy, Cypress, Tomball, Conroe, Magnolia, The Woodlands and 1960 West
Visiting Angels
MAGNOLIA, TX
32815 Tamina Road Suite A
Magnolia, TX 77354
Phone: 281-356-2827
Fax: 281-259-9098