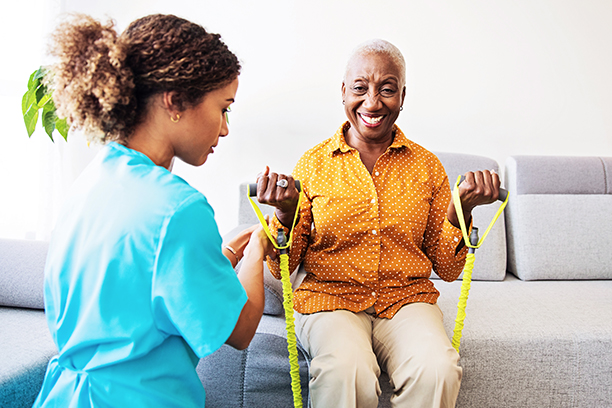 An In-Home Care Worker Provides Mobility Assistance for Seniors in Melbourne, FL
Many seniors in Melbourne, FL lose their independence due to falls. Visiting Angels can help your loved one stay safe through the assistance of a referred home care worker
Falls can cause not only serious physical injuries, but affect seniors on a social and emotional level. Many older adults who are afraid of falls are afraid to even leave their home, and because of that miss numerous family gatherings and social events. This kind of behavior leads to feelings of anxiety, loneliness, sadness and depression. Our network of independent and dedicated home care workers can ensure that your loved one lives in a safe environment and maintains their independence for as long as possible.
For members of the younger generation, falls are not a big deal. But for seniors, they can be life-changing. They lead to injuries like fractures and concussions and can severely affect your loved one's quality of life. Statistics show that every year over 800,000 seniors end up in hospitals due to falls, and older adults who once fell are more likely to fall again. Recovering from a fall can last up to a year in a care facility and many individuals never become independent again.
Risk Factors
There are several reasons why a senior might experience a fall. These risk factors are linked to one's physical condition, a health issue or the home environment. If your loved one suffers from arthritis, has poor eyesight, or is taking multiple medications they are prone to falls. We can refer a caregiver who can make sure that your parent drinks plenty of water during the day since dehydration is another risk factor. They can also suggest installing grab bars in the bathtub if necessary and identify other risk factors promptly. With the help of Visiting Angels and our network of independent home care workers, many falls can be prevented.
The safety and well being of our clients comes first, so we are committed to educating seniors, their families and their caregivers about all the ways falls can be prevented. If you want to learn more about fall prevention or our home care services, don't hesitate to contact our office in Melbourne, FL.
Download Your Free Safe & Steady Fall Prevention Resource Guide today.
Serving Viera / Suntree, Melbourne, Palm Bay and Beaches
Visiting Angels MELBOURNE, FLORIDA
2351 W Eau Gallie Blvd #3
Melbourne, FL 32935
Phone: 321-953-8730