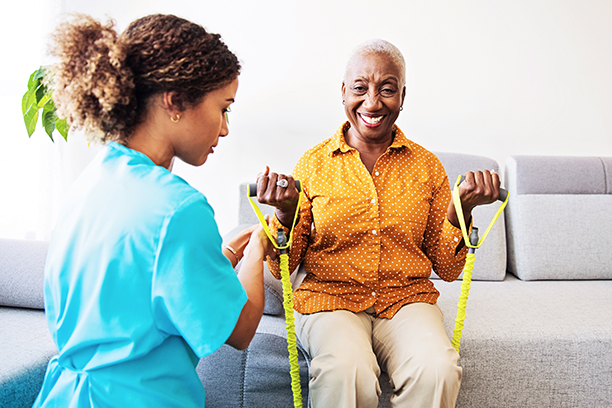 Frequently Asked Questions About Non-Medical Home Care Services in Melbourne, FL
At Visiting Angels in Melbourne, FL, we hope to ease your concerns about our services by answering common questions about non-medical home care services for seniors
Q. What kind of services do you provide?
A: Here at Visiting Angels Melbourne we provide two types of care: companion care and personal care services. These are designed to offer support to seniors and help them age in place safely and with dignity. Our services may include fall prevention, medication and fluids reminders, light housekeeping, grooming or bathing assistance, and running errands.
Q: You often mention the term "aging in place". What does it mean?
A: When we use this term we are referring to one's ability to grow old in their own home instead of moving to an institutional residential care like a nursing home. Sometimes it is used to refer to senior's ability to remain in an assisted living facility with extra help.
Q: Do you provide non-medical home care services in assisted living facilities?
A: Yes, because sometimes the level of care seniors receive in an assisted living facility is not enough to ensure their independence. Therefore, older adults who live in these facilities can hire our caregivers and receive the level of care that allows them to live independently. In some states seniors can hire private help in an assisted living facility.
Q: How fast can care be provided/started?
A: We can provide senior care services within 48-hours and often the very same day.
Q: Can I change the schedule if I have other obligations?
A: Here at Visiting Angels, our clients and their happiness and well-being are our number one priority. Therefore, we will do everything in our power to ensure that the schedule you want is the schedule you get. Just give us as little as one week's notice and we will make all the necessary changes.
Q: How do I start non-medical home care services?
A: Simply call our local office in Melbourne, FL and speak with our care coordinator. Members of our staff will visit you in your home and conduct a free, no-obligation assessment. After we listen to your needs and preferences, we will identify caregivers who have the skills, personality, and experience to assist you. You will then meet our caregiver and if you approve of our choice, they will start working for you.
Serving Viera / Suntree, Melbourne, Palm Bay and Beaches
Visiting Angels Melbourne, Florida
2351 W Eau Gallie Blvd #3
Melbourne, FL 32935
Phone: 321-953-8730