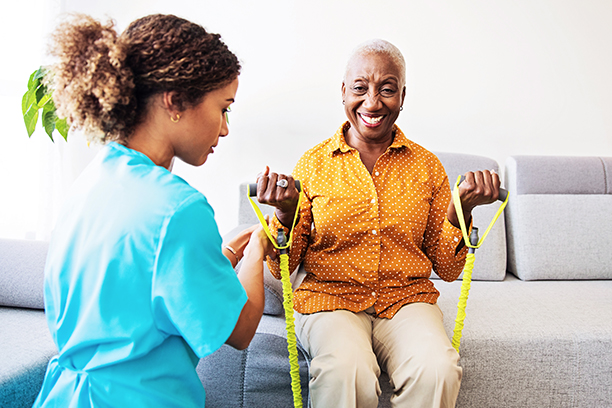 We're Proactive About Elderly Care At Home for Seniors in Melbourne, FL
At Visiting Angels, we're extremely proactive about providing quality elderly care at home for seniors in Melbourne, FL
Proactive home care services are essential if you are looking for someone to care for your loved one. You need open lines of communication that make it possible for you to address any and all concerns. You also want your caregiver to feel comfortable so they can reach out to you as they see changes in your loved one's condition. For families separated by great distances, proactive home care services are vital. It's imperative you have confidence in your loved one's caregiver and the services agency you hire.
That's why independent care providers from Visiting Angels go above and beyond to stay proactive so our clients can receive the best in-home care possible. We emphasize prompt and consistent communication and monitoring with every caregiver in our network so we can ensure your loved one receives the care they truly need.
Engaged Elderly Care at Home for Melbourne Area Seniors
At Visiting Angels Melbourne, we understand how important it is that you know exactly what is happening each day and how your loved one's care is progressing. We are so committed to proactive communication between our agency and your family that we have developed a system of follow up and monitoring. The service coordinators in our office spend a great deal of time following up with each caregiver and client. They regularly make phone calls and drop-in visits to ensure your loved one is receiving quality elderly care at home.
But we don't stop there. In addition to our regular follow-up schedule, we also empower our network of caregivers to take an active role in communicating with the families they serve. We encourage our care providers to reach out to family members or our office with any concerns they have regarding the health or well-being of their clients. This is especially important for families who live far from their loved one. For these families, the caregiver often spends more time with their loved one than they are able to. The feedback and communication provided by caregivers in our nurse registry provide peace of mind to the families we serve.
For your loved one to receive the best care, they must be matched with an experienced caregiver who has the skills to meet their needs. Proactive communication is also a significant component of quality care. With Visiting Angels Melbourne providing home care referral services, you won't ever have to worry about the quality of care your loved one is receiving.
Call our Melbourne, FL office today to learn more about our solutions for elderly care at home. We look forward to speaking with you soon.
Serving Viera / Suntree, Melbourne, Palm Bay and Beaches
Visiting Angels MELBOURNE, FLORIDA
2351 W Eau Gallie Blvd #3
Melbourne, FL 32935
Phone: 321-953-8730
NR30211192