Thank you for this update Sheryl and Juli! I continue to be so grateful to you for the continued care you are providing for mom. Coralia has been steadfast and demonstrates the excellence in care that your agency has come to represent in my mind. If there was ever a time when your name was befitting of an organization, now would be it! Thank you to you and all the visiting angels you employ!
With warm regard and appreciation,
JoAnne K.
Sheryl, your company has done a great job in providing a caring individual who showed up on time each day and gave of herself above and beyond. My mom will miss Candice and I will miss the solid company (Visiting Angels) we have had the pleasure of working with.
Michael D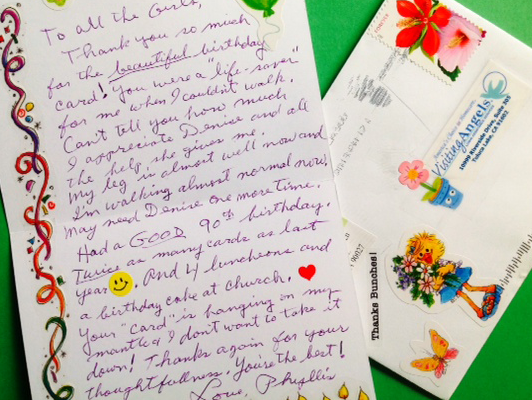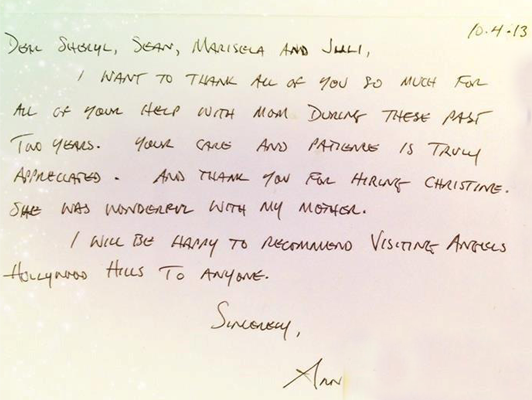 Sheryl, your business and employees have been incredibly kind and have bent over backwards to accommodate, I cannot tell you how grateful we are for you being there.
C. Young
Our Visiting Angel caregiver gave my Aunt such great care and companionship. Great service!
What a great affordable service.
The manager was very helpful and friendly. She even suggested other agencies that could help with our medical needs.
The caregiver was great. My Mother is happy!!
My only regret is that I didn't have an "Angel" sooner.
Visiting Angels Hollywood Hills provided my Father with excellent care. We don't know what we would've done without them helping us out in a time when we didn't know what to do. Thank you Sheryl for your professionalism and proactive response to our needs.