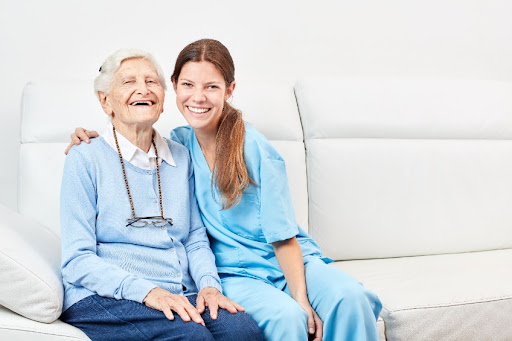 Benefits and Challenges of Professional Caregiving
Professional caregiving is growing as a career option for individuals looking to engage in rewarding work. When considering if professional caregiving is the right career choice for you, weighing the benefits and challenges is helpful. Being a professional caregiver comes with many more positives than hardships, but understanding potential hurdles can help you prepare for your future career.
Benefits of professional caregiving with Visiting Angels
Many benefits come with working as a professional caregiver. Still, specific benefits only come when you work with a locally owned and operated home care agency like Visiting Angels.
Flexible scheduling- When we hire a caregiver, we ask for their preferred days and times to work. With part-time and full-time positions available, we're often able to work with our employees to ensure they're working shifts that are best for their lifestyle.
Competitive pay- We believe fair compensation is essential for all employee work, so we offer a competitive hourly wage for caregivers.
One-on-one client interactions- Working one-on-one with clients is the most enjoyable part of caregiving. Expect to build lasting and meaningful relationships with the seniors you assist.
Supportive office staff- A lot of autonomy comes with being a caregiver, and you must take the initiative when working with clients. However, even though you're often working alone with a client, plenty of people at the Visiting Angels office are a phone call away whenever you need help.
Limited commute- We focus on working with seniors in our community. We do our best to match caregivers with clients close to them to help limit the commute to and from work.
Paid training- It's okay if you're new to caregiving. At Visiting Angels, we provide extensive hands-on training for all new hires to ensure you're comfortable and capable of providing at-home care.
Paid time off-Taking time off is essential, and we want our caregivers to enjoy vacations and family time, which is why we offer paid time off when you need it.
Challenges of professional caregiving
Like any job, caregiving comes with its challenges. But if you're a good fit for professional caregiving and enjoy your career, there's no challenge too big to overcome.
There's a learning curve. Like a position, there's a learning curve to caregiving, especially if you're new to working with seniors. You'll receive training and access to excellent support staff if you need help.
The work is rewarding, but not every day is easy. Caregiving is a rewarding job, but you will face difficult days with clients. Remember to practice compassion, patience, and empathy, and you'll make it through the challenging times.
Caregiver burnout can happen if you don't take steps to care for yourself. Caregiving takes a toll on you physically, mentally, and emotionally. If you're working long shifts or not allowing yourself to rest after a long day, you may experience burnout.
Starting a career with Visiting Angels
Are you ready to start your career as a professional caregiver? If so, the team at Visiting Angels would love to connect. Our Prescott office serves those in the Prescott Area and the Verde Valley. Please send us your application online or call 928.220.4100. We're happy to connect if you think you'd make an excellent candidate for us.