Home Care Services in Sedona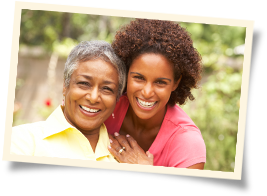 At Visiting Angels® Prescott, our award-winning home care services improve the lives of Sedona area seniors. That's because maintaining a safe and stable home environment is always better than moving to an assisted living facility. For seniors who require a bit of support to keep up with daily life, we provide a wonderful opportunity to extend their home life and carry on with a more dignified existence.
If your parent or relative suffers from Alzheimer's or dementia, keeping them in the familiar setting of their own home is very helpful. With the memory-based struggles that these disorders present, it's always best to save them from the stressful and confusing relocation to an assisted care facility.
For married senior couples, remaining together as they age is absolutely vital. However, in cases where each spouse requires a different level of support, moving them to a facility could lead to their separation. By enlisting our services, you can make sure they remain together, in their own home.
Regardless of the circumstances, our trusted home care services can simplify your loved one's daily life and provide them with a safer, healthier home environment.
About Our Home Care Services in Sedona
To be effective, our home care must address each person's specific needs. We will work with you to create the right care plan that keeps them safe and happy. Our services include:
Personal Care. Sensitive help with private daily needs like bathing and grooming.
Household Help. Creating an easier home life by handling various chores and errands.
Memory Help. Making sure they take their medication at the right times.
Companionship. Delivering kind and compassionate company from someone they trust.
Safety. Making sure there are no fall risks around the home.
Dedicated Home Care Services In Your Area
For loving family members tending to the needs of your senior loved ones, we are here to take some of those responsibilities off your shoulders. We know how exhausting and stressful it can be, and we also know how important it is to take a break from time to time. With our help, you can sign up for whatever level of assistance you and your loved one require.
Our compassionate caregivers will be there as often as you need, providing loving and respectful care and allowing you to rest easy. We proudly offer these services throughout:
Sedona
Prescott Valley
Cottonwood
Chino Valley
And surrounding areas
For additional details about our home care services in the Sedona region, contact Visiting Angels Prescott and start things off with a no cost care consultation today.