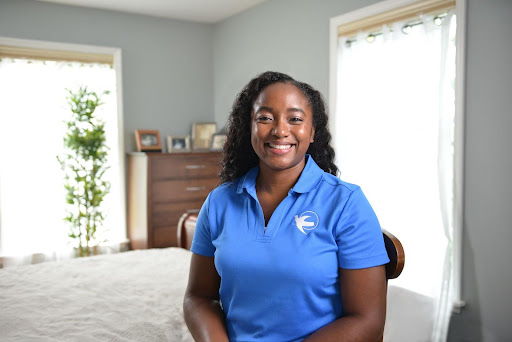 How to Prepare for a Career as a Caregiver
Suppose you're new to the caregiving world or considering transitioning into a caregiving career. In that case, it's common to approach a few learning curves as you settle into your new position. Set yourself up for success by learning about your role as a caregiver, the types of services you might provide, the skills that will be most useful, and developing those skills to provide exceptional care.
Learning the role of a professional caregiver
As you start your role as a caregiver, a good first step is understanding your role as a professional caregiver. Professional caregivers provide nonmedical assistance to clients, usually seniors or disabled adults. At Visiting Angels, we provide at-home care assistance meaning our caregivers work with clients in their homes to help them remain independent.
Types of caregiving
The tasks you may complete daily depend on the type of caregiving services a client requests. At Visiting Angels, we have a few service options for clients.
Companion care: If you provide companion care, you help seniors with various daily living activities like light housekeeping, grocery shopping, or meal preparations.
Personal care: Personal care services include the same tasks as companion care but with more hands-on functions like bathing, mobility assistance, toileting, and dressing.
Transitional care: A client may request transitional care services to help reduce the chances of readmission after a hospital stay. As a caregiver providing transitional care, you will help with medication reminders, mobility assistance, and transportation to follow-up appointments.
Dementia care: Clients diagnosed with dementia may need specialized care services to accommodate their ever-changing condition.
End-of-life care: Clients may need end-of-life care services as they enter the final stages of their lives. You may work alongside a hospice team to provide emotional and spiritual support to clients and their families as they navigate this difficult time.
Build your caregiving skills
Caregiving requires skills outside of knowing how to complete daily living tasks with clients, and taking the time to develop those skills is essential to the success of your caregiving career.
Skills essential to caregiving
Caregivers utilize many skills, but a few essential ones include strong communication, organization, time management, and leadership.
Communication: Strong communication skills refer to how effectively and efficiently you can share information with others. You need communication skills to communicate with your client and their family, the office staff, and your coworkers.
Organization: As a caregiver, you primarily work alone with your client, and it's your responsibility to keep your work and yourself organized to ensure you sufficiently complete all tasks.
Time management: Your clients expect you to arrive at their homes at a particular time and may require you to transport them to appointments. With strong time management skills, you can ensure everything runs smoothly and efficiently.
Leadership: Strong leadership skills make building trusting relationships with clients easier. Leaders make individuals feel safe, confident, and inspired, all qualities you want to instill in your clients.
Tips for building your caregiving skills
Volunteering, speaking with care professionals, and learning about the aging process are all excellent steps you can take to start building your caregiving skills.
Volunteer in an environment where you're assisting people. Find a position that allows you to provide a service to another person, such as tutoring students, to improve your comfortability with one-on-one client interactions. It doesn't have to be a volunteer role working with seniors, although volunteering in a nursing or assisted living community is an excellent option.
Reach out to professional caregivers to learn about their experiences. Professional caregiving is a unique experience best understood by those who work as caregivers. Reach out to professional caregivers in your network or friends who acted as family caregivers and talk to them about their experiences. Ask for advice, guidance, and tips for making a seamless transition into your new career.
Educate yourself about aging and caregiving. Many books, online resources, webinars, and classes teach people about caregiving and understanding the changes people go through as they age. Knowing caregiving and aging can improve your empathy and prepare you for how to approach various situations.
Starting a career with Visiting Angels
Visiting Angels Prescott is a locally owned and operated homecare agency dedicated to providing at-home care to seniors in our community. We hire empathetic, dependable, hard-working caregivers who thrive in a fast-paced environment. Working with Visiting Angels means competitive pay, flexible schedules, clear career paths with a scholarship program, paid training, bonus opportunities, limited commutes, reimbursable mileage, paid time off, and one-on-one client interactions.
Our Prescott office serves those in the Prescott Area and the Verde Valley. Please send us your application online or call 928.220.4100. We're happy to connect if you think you'd make an excellent candidate for us.