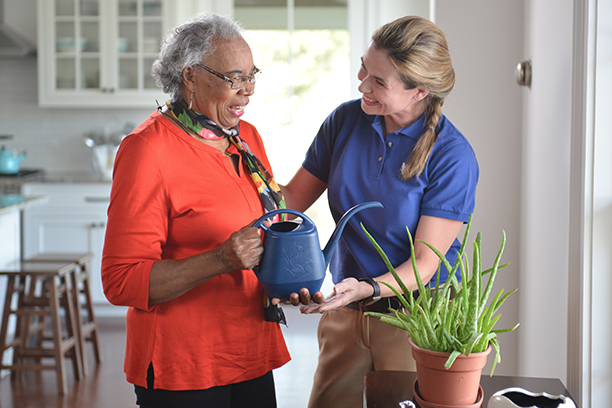 Alzheimer's Care Services in Red Bank
Our Mission: To Improve the Quality of Life for Those Suffering with Alzheimer's Disease and Their Families


Alzheimer's Care Services from Visiting Angels Red Bank
When a valued parent or loved one is diagnosed with Alzheimer's or dementia it can be devastating to family members. It is normal to have many questions and a mix of emotions regarding your loved one's illness. Families often wonder how they will care for their loved one as Alzheimer's progresses. Visiting Angels Red Bank offers Alzheimer's care services which can help. Not only can we provide assistance to your loved one to help keep them safe and comfortable at home, we also support family. If your family is dealing with a loved one's diagnosis of Alzheimer's or dementia, call Visiting Angels Red Bank for in home care services.
Choose Your Caregiver in Red Bank
When your loved one is diagnosed with Alzheimer's, it is wise to seek outside support early on. Involving your loved one in selecting a caregiver shortly after diagnosis allows them to begin to build a relationship. The further along your loved one gets in the progression of their illness the more challenging it may become to introduce an outside caregiver. At Visiting Angels Red Bank, we want to make the transition to Alzheimers care services as smooth as possible. You and your loved one will have the opportunity to sit down with several qualified memory care specialists and decide which one you would like to work with. Alzheimers care services from Visiting Angels Red Bank help your loved one retain as much control over their illness as possible.
Qualified Alzheimer's Care Services
Visiting Angels Red Bank is experienced at providing Alzheimer's care services to seniors. Our memory care specialists are skilled caregivers with advanced knowledge of caring for those with Alzheimers and dementia. Visiting Angels utilizes an advanced training program which was created with assistance from the Alzheimer's Foundation of America, leading experts in the memory care field. This program teaches the skills needed to address the unique needs of those with memory related illness. When you choose Alzheimer's care services from Visiting Angels Red Bank, you will gain the peace of mind that comes with having assistance from a compassionate professional.
Contact Visiting Angels Red Bank for Alzheimer's care services you can trust. Our friendly professional staff is available to answer your questions and help you get started.
Serving Red Bank, Long Branch, Tinton Falls and other Monmouth County Communities, NJ
Visiting Angels
RED BANK, NJ
62 Maple Avenue #1
Red Bank, NJ 07701
Phone: (732) 450-8004
Fax: 732-450-8005