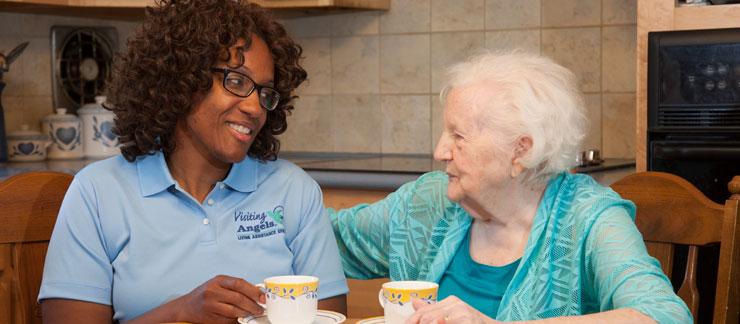 Making the Most Out of Visits to Elderly Parents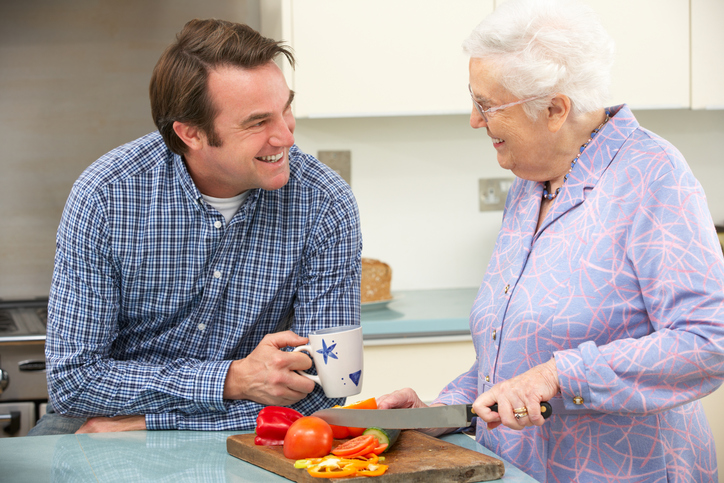 These days, it's not uncommon for parents and children to be separated from one another by tens — or even hundreds — of miles. When aging starts to take a toll on our parents' well-being, this can be a problem. Very few of us can uproot our lives to move closer to mom and dad. That means that it's important to make the most of visits when they happen.
"Visits can make a big difference when elderly parents and adult children are separated by long distances," says Larry Meigs, President and CEO of Visiting Angels, a nationwide network of elderly care providers. "Whether you're using that time to take care of tough housekeeping jobs, to check up on your mom or dad's well-being, or simply to have a nice meal and some pleasant conversation, there's a lot that you can pack into a day or an afternoon."
If you're starting to worry about your mom or dad's well-being and want to make the most out of the time you spend together, here are some tips for what you can accomplish on your next visit.
Tough Tasks Around the Home
As we grow older, it becomes more and more difficult to accomplish important tasks around the home. Physically draining jobs, like shoveling the driveway or clearing the gutters, can be too much for seniors to handle. In other cases, poor eyesight or physical limitations mean that seniors miss signs of wear or damage around the home. And sometimes, seniors simply don't have the energy they need to take care of day-to-day tasks.
When visiting elderly parents, one of the best things you can do is to volunteer for tough jobs around the house. Before visiting, ask your parent if there are any jobs that they need to have done. This way, you can plan your visit around these jobs and bring any tools, equipment, or materials you might need.
Of course, your mom or dad won't always tell you when they need tasks performed. Sometimes, they might be embarrassed to ask for help. Other times, they may not realize that work needs to be done. Because of this, it can be helpful to do a housekeeping check of your parent's house early in your visit. Use this opportunity to check for signs of wear or damage, inspect areas that require seasonal maintenance, and look for small jobs that need to done about the home.
Performing a Wellness Check
One important part of a visit to an elderly parent is checking in on his or her well-being. Many seniors find it hard to admit when they are starting to have trouble taking care of themselves, and so it is often up to adult children to notice signs of deteriorating well-being.
Checking in on a parent's wellness starts with asking them questions about their physical, mental, and emotional well-being. While it's best to ask these questions in person when possible, you can often ask them by phone during daily or weekly calls.
Of course, not all senior are forthcoming about day-to-day challenges and problems with their health. It's important, then, to check for signs of health problems in your parent when you have the chance. Sometimes, these signs will be evident in your parent — such as trouble getting up from their seat, a lack of energy, or creeping forgetfulness. Other times, indications can be found in their living conditions — such as signs of hoarding, forgetting to bathe, or a lack of housekeeping.
When it becomes clear that a loved one may be struggling with the activities of day-to-day life, you may consider the help of an in-home caregiver. Many home care agencies, including your loved one's local Visiting Angels office, will be happy to coordinate a care plan via long distance.
Taking Time for Each Other
Sometimes, it can be easy to get carried away worrying about your mom and dad. You might spend your whole visit fretting over jobs that need to be done around the home or about signs that your parent's health isn't what it used to be.
While it is only natural to worry over those we care about, it's important not to lose sight of what makes visits with our loved ones so special. If you live far enough away from your parents that you can only see them once a month (or even less frequently), the time you spend together will be even more valuable. So make sure that you set aside quality time every visit, whether sharing a homecooked meal, playing a game of cards, or simply taking the time to have the kinds of conversations you don't have over the phone.
And remember that if visits every now and again don't seem to be enough for your loved one, help is available. To find out how your local Visiting Angels can help, learn more about our long distance caregiving services today.