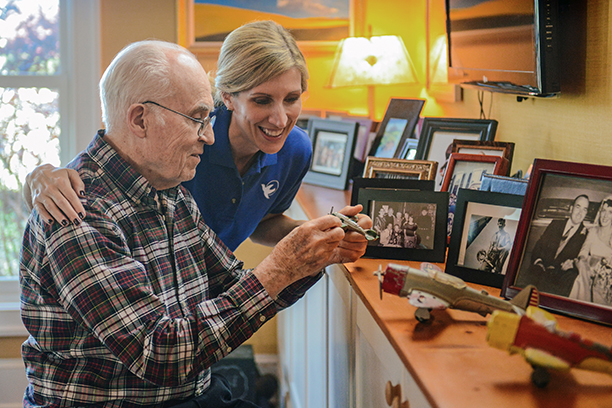 Transitional Care in Sacramento Helps Avoid Hospital Readmissions
Ready-Set-Go Home with Transitional Care
It is estimated approximately 1 in every 5 Medicare recipients are readmitted within 30 days of a hospital discharge. This contributes to mounting medical bills and rising healthcare costs. Ready-Set-Go-Home care, also known as transitional care, from Visiting Angels® Sacramento CA helps seniors avoid the expense and frustration of hospital readmission. By providing non-medical assistance at home, we help your loved one continue their recovery in the comfort of their own home.
Visiting Angels Sacramento is an experienced provider of transitional home care to seniors and disabled adults. Families throughout Rancho Cordova, Carmichael, Fair Oaks, Orangevale, and the surrounding communities rely on us to help their loved ones at home. At Visiting Angels Sacramento, we specialize in helping seniors remain at home and transitional care is one way we accomplish this.
Common Causes of Readmission
When a loved one is admitted to the hospital, the goal is often to help them heal so they can return to their home as quickly as possible. To be discharged, only to be readmitted within the first month is disheartening. Transitional care from Visiting Angels Sacramento can help address issues which may lead to additional hospital visits.
There are several common factors which contribute to hospital readmission. These include:
Exhaustion due to poor sleep in the hospital
Failure to follow discharge instructions
Missing follow-up appointments
Not taking medications as directed
Trouble managing an illness at home
Ready-Set-Go-Home care, or transitional care, from Visiting Angels Sacramento can provide non-medical aid to address these issues and help your loved one remain at home, where they most want to be.
How Visiting Angels Sacramento Helps
There are several ways the non-medical transitional care from Visiting Angels Sacramento can help your loved one. Our three-pronged approach can help reduce your loved one's risk of readmission by:
1. Visiting your loved one at the hospital and providing them with a copy of our discharge planning guide, as well as meeting with the hospital discharge planner to ensure a smooth transition.
2. Monitoring your loved one at home to keep an eye out for medication issues, missed appointments, and more. We report any concerns to your loved one's case manager so issues can be addressed before they become a problem.
3. At the Visiting Angels Sacramento office our transitional care coordinators can arrange for medication delivery, as well as medical equipment and food delivery. We can provide medication and appointment reminders to help keep your loved one on track.
If you have a loved one in need of transitional care after a hospital stay, call Visiting Angels Sacramento today.
Serving Sacramento, Carmichael, Citrus Heights, Fair Oaks, Gold River, Orangevale, Roseville, CA
Visiting Angels
SACRAMENTO, CA
3808 Auburn Blvd #52
Sacramento, CA 95821
Phone: 916-971-9333
Fax: 916-971-9845
HCO #344700003