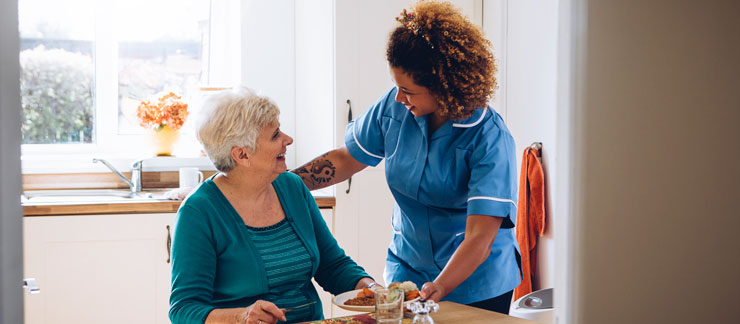 Private Duty Home Care: Frequently Asked Questions
If your elderly loved one or family member is in need of private duty home caregiver service, learn more about how
in-home care
can benefit their life. Many elderly individuals enjoy living in the comfort and safety of their own home, and private duty home care allows them that option.
What is Private Duty Home Care?

Private duty home care
is a service provided to elderly individuals who are in need of assistance with day-to-day activities. A private duty home caregiver visits your home or the home of your loved one and helps with activities such as meal preparation, housekeeping, and personal grooming and hygiene. A private duty home caregiver can also provide companionship for the elderly, as well as respite care to relieve family members who care for their loved ones on a regular basis. Private duty home caregivers make it possible for elderly individuals to stay home safely and enjoy the comfort and familiarity of a space with years of memories. Private duty home care also makes it possible to transport the elderly to places they wish to go or visit, and in some cases home care workers provide physical therapy services. It does depend on the Private Duty Home Care agency, though.
How to Choose a Private Duty Home Caregiver?
Your private duty
home care agency
will work with you to assess the needs of both the client and his/her family, and then will match an appropriate caregiver based on personality and experience. This caregiver will be issued after an initial meeting, with the goal of satisfying emotional, medical, and all other needs of the client. Most private duty home caregivers have years of experience, training, and have been subjected to criminal background checks for safety reasons.
Can My Senior Remain Safely at Home or is Assisted Living Arrangements Needed?
In order to best access the needs of your loved one, it's a good idea to talk to a nurse or client care professional. If your private duty home caregiver suggests alternative living as another solution, your loved one may be safer and happier when not living at home.
What Activities Do Private Duty Home Caregivers Provide Seniors?
Private duty home care services assist individuals with daily living activities such as:
Maintaining proper personal hygiene, such as bathing, laundry services, personal grooming, and other similar tasks
Cooking, shopping for groceries and meal preparation
Reminding seniors to take their medications on time
Arranging for transportation to events and appointments
Housekeeping and maintenance around the house