Caregiver in Darien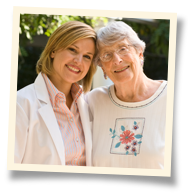 At Visiting Angels® Stamford, our caregivers develop safer, more sustainable home lives for seniors in the Darien area. Relying on a vast assortment of different services, we provide customized in-home support that helps elderly citizens continue living at home and avoid the need for an assisted care facility.
As a family member of an aging parent or relative, it's natural to have some skepticism about sending a total stranger into their home. However, with our extensive background and reference checks, we can proudly say that all our caregivers are honest, trustworthy people with integrity. Your loved one in Darien will receive excellent care and loving companionship from a wonderful person they can rely on.
The Benefits of Hiring a Professional Caregiver in Darien
At Visiting Angels Stamford, we have spent years helping local families create better lives for their senior relatives. In that time, we have seen the dramatic difference that an extended home life can make. Helping your relative remain at home means giving them a more dignified existence where they can rely on a familiar setting and feel more comfortable. Plus, for seniors with memory disorders, staying at home can limit confusion and help them navigate daily life with less stress.
The move to an assisted care facility is full of difficult challenges that can make their life even harder. They will have to adjust to a new environment and get used to a new daily routine. When you compare the two lifestyles, it's clear that staying at home is in their best interest. At Visiting Angels Stamford, we are proud to help families across Darien achieve extended home lives for their relatives. We provide:
The chance for family members to take a break from delivering care.
A consistent source of kind and loving companionship.
Professional service with personal tasks such as bathing and grooming.
Important reminders to take their medication on time.
Help to reduce fall risks around the house and eliminate other accidents.
Mobility assistance, light housekeeping, meal prep, and more!
Trusted Caregivers From Visiting Angels Stamford
With an emphasis on both personal and professional details, our Select Your Caregiver® program does a great job of pairing your relative with the right care provider. After close consideration of a variety of different factors, we will choose the person we feel is best equipped for the role. At that point, family members will be given the chance to meet this person and make the final approval.
Our dedicated caregiver services are available in:
Darien
Greenwich
Stamford
New Canaan
And throughout the surrounding areas
To learn more about our caregiver options around Darien, call Visiting Angels Stamford and schedule your care consultation today.