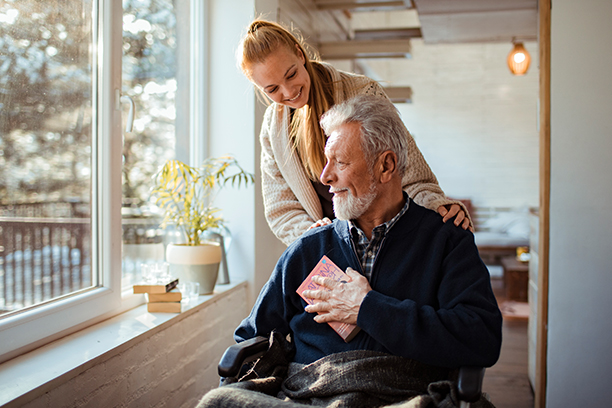 We're Proactive
Proactive Assisted Living Services in St. Petersburg
Every client that comes to Visiting Angels St. Petersburg for assisted living services referrals has a list of concerns. Each day we answer questions about quality of care, caregiver experience and the logistics involved in caring for seniors. It's not an easy decision to choose assisted living services. We understand this and work to put your family at ease. Our goal is to make the choice for assisted living services an enjoyable one.
One of the ways we put our clients and their families at ease is to explain our proactive approach to assisted living services. Receiving quality care means your loved one will be treated with respect, dignity and compassion. It also means they won't be treated like a number or neglected in anyway. Each individual the caregivers in our network work with is treated like family. We work hard to ensure no one is ever lost in the shuffle.
To ensure top quality care at all times, we initiate follow up and keep the lines of communication open. We don't wait until there is a problem to reach out to your family. We anticipate problems and areas of concern and work to minimize them. The caregivers we refer are always on the lookout for anything related to your loved one's health and well-being that seems to be changing or is different from the norm. If they ever spot something of concern, they will reach out to our office and/or to your family.
Our service coordinators don't rely on the caregivers to be their only source of information about your loved one's health and the care being provided. We have a regular system of follow up checks to ensure quality care is always being provided. Our service coordinators perform drop in visits and make regular phone calls to your loved one to ensure they are happy with the care they are receiving.
Quality assisted living services are not an option; they're essential. Proactive communication and active follow up help us to make sure your loved one is always receiving the best care possible.
Call our St. Petersburg office today to learn more about our assisted living referral services.
Serving Largo and Metropolitan St. Petersburg, Florida
Visiting Angels ST. PETERSBURG, FLORIDA
944 4th St North #800
St. Petersburg, FL 33701
Phone: 727-797-8600
NR30211274