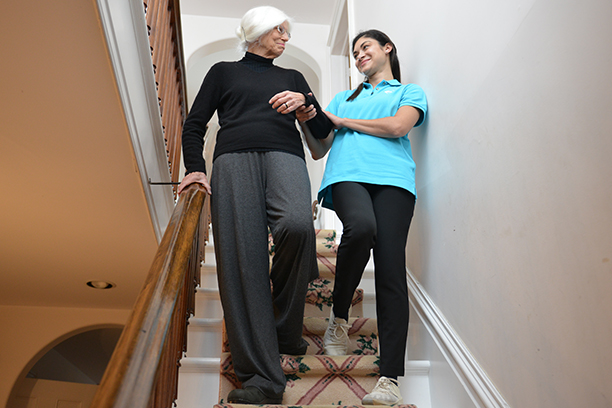 Why Visiting Angels
Why Visiting Angels Tampa
It's no small task to choose among home care referral agencies in the Tampa area. Visiting Angels® Tampa understands your need to find quality home care referral agencies and caregivers that are reliable and professional. The care of a loved one is not to be taken lightly. Visiting Angels Tampa understands your concerns and desire to find the best home care referral agency available.
At Visiting Angels Tampa, you will find a home care referral agency that is dedicated to meeting the needs of our clients. We always put you first and work to ensure your peace of mind.
It's Your Schedule. Remain in Charge of It.
Visiting Angels Tampa is a non-medical home care referral agency. As a referral agency, we work together with our clients to locate the care they need. We never dictate your schedule or your care. Our proactive and cooperative approach to care is the hallmark of our home care referral services. Experience the difference that is home care referred by Visiting Angels Tampa.
Peace of Mind.
Inviting a caregiver into the home can be a difficult decision. We understand your concerns. Our referred caregivers will be in your home on a daily basis and will have the responsibility for caring for your family member. Quality care is essential. At Visiting Angels Tampa, we are proud to be licensed, bonded and insured. We follow all the guidelines of the Florida Agency for Health Care Administration (AHCA). Providing you with peace of mind is what we do.
Follow Up and Monitoring.
As part of our commitment to superior care, we have established an active follow up and monitoring program. Once you have selected your caregiver and a care plan has begun, we take the time to follow up with our network caregivers through phone check-ins and in-home visits. We also encourage our network caregivers to be proactive and reach out if they see any areas of concern.
Customized Care.
We are proud to be one of the few home care referral agencies in the Tampa area to help coordinate truly customized care. Our clients work with the Visiting Angels Tampa team to establish their individual care needs. As those needs change, your caregiver can adapt services to meet them. Coordinating customized care is part of our commitment to you.
Call Visiting Angels Tampa for quality in-home care referrals. We are proud to be one of the finest home care referral agencies in the Tampa area.
Serving Tampa, Florida
Visiting Angels TAMPA, FLORIDA
9812 N 56th St
Tampa, FL 33617
Phone: 813-929-7067
813-985-1200