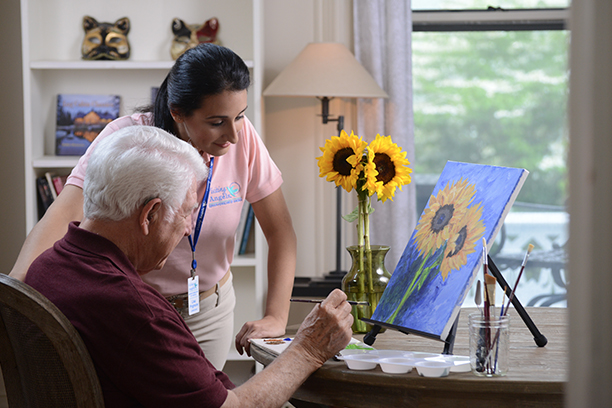 Elderly Care in West Salt Lake City, UT
Do you have a senior loved one that is living alone or far from family? Do you worry about their safety, comfort, or well-being? If so, elderly care from the trusted, local experts at Visiting Angels®West Salt Lake City may be just what you need to put your mind at ease. We send exceptional caregivers into homes across the communities of Tooele, Bingham Canyon, Magna, West Valley City, West Salt Lake, Kearns, Taylorsville, West Jordan, Coppertone, Herriman and the surrounding area to provide a wide range of elderly care services for seniors from the comfort and convenience of their very own homes. It's the perfect way to give additional support to your aging loved one.
West Salt Lake City's Choice in Elderly Care
An independent-minded senior sometimes doesn't want to admit that they could use some extra help, or doesn't want to accept it when it's offered, no matter how much they may need it. Our elderly care services at Visiting Angels West Salt Lake City are designed to put their dignity first, so that they can both accept and enjoy receiving assistance. Those services span the gamut from light housework to companionship so that your loved one can get precisely the care that they need.
Some of the things your loved one's caregiver can lend a helping hand with include:
Getting to the grocery story, library, post office, and running other errands
Reminding them when it's time to take medications or get their prescriptions filled
Reading small print in books, newspapers, emails, or other correspondence
Planning and preparing nutritious meals to keep them eating well
Keeping them company with light-hearted conversation, card games, and more
The elderly care provided by Visiting Angels West Salt Lake City can help to keep them safe by preventing accidents and strain, but it can do much more than that. It can also lift their spirits. Having a companion caregiver by their side can bring light and positivity into your loved one's life, prevent loneliness, and improve their overall outlook. Our caregivers are one-of-a-kind individuals selected from right here in the community. They're chosen not only on the merit of their skills, but on the strength of their character so that we can be sure that the elderly care they provide to your loved one in West Salt Lake City will be as meaningful as it is helpful.
Book a free consultation today by calling Visiting Angels West Salt Lake Cityand ask about how elderly care could benefit your loved one.
Serving West Salt Lake, Herriman and the Surrounding Areas
Visiting Angels
WEST SALT LAKE CITY, UT
1885 W 2100 S #250
Salt Lake City, UT 84119
Phone: 801-803-9248
Fax: 435-882-9847