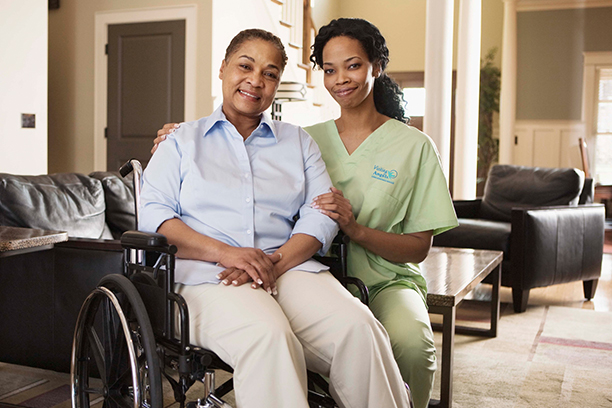 Alzheimer's Mission
Mission: To Improve the Quality of Life for Dementia Sufferers and Their Families
Most often, after an initial diagnosis of Alzheimer's or a related dementia illness, families are faced with difficult decisions about providing care for their loved one. Working parents with children are faced with new stresses to balance work and family. Families who are separated by great distances must make hard choices to provide care. Sometimes nursing homes or special care retirement centers seem to be the only options. You do have a choice and we can help.
Visiting Angels non-medical home care services allow your loved one to maintain the independence of their daily routines and familiar surroundings. We can help your loved one avoid the emotional trauma of leaving their cherished home while helping cope with the dementia illness and providing the respite care so important for the family.
home care nurseAs part of a collaborative relationship formed by Visiting Angels and the Alzheimer's Foundation of America, Visiting Angels, has become the first national non-medical senior home care provider in North America to offer an AFA sponsored formal training and qualification program for our caregivers who care for individuals with Alzheimer's disease and related illnesses.
Eric J. Hall, AFA's chief executive officer, praised Visiting Angels for stepping up to provide Dementia Care Professionals of America (DCPA) training to its healthcare professionals. "As the incidence of Alzheimer's disease continues to increase, it is critical that organizations recognize the importance of setting high quality standards for healthcare providers. These efforts will go a long way toward providing optimal care to those in need."
senior care homeWorking through the DCPA, a new membership division of the AFA for healthcare professionals, Visiting Angels' agencies across North America will be training and qualifying selected caregivers to provide service to individuals and families trying to cope with this disease.
For more information on this program and availability of services in your area, contact your local Visiting Angels office.
Serving Worcester, Shrewsbury and Eastern Worcester County, Massachusetts
Visiting Angels
WORCESTER, MASSACHUSETTS
255 Park Ave #705
Worcester, MA 01609
Phone: 508-757-4014
Fax: 508-797-3096