When Should I Find Dementia Care Services in Corvallis?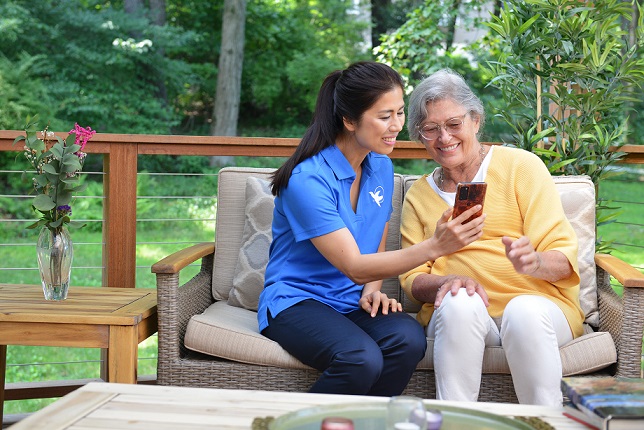 After a dementia diagnosis, your loved one may still insist on aging in place. You want to honor their wishes but are concerned about their ability to live on their own. Our dementia care services in Corvallis are designed to help seniors navigate the physical, mental, and emotional changes associated with the disease. Keep reading to learn more about Visiting Angels® Albany OR and our in-home services.
Seniors with dementia may be able to live independently for many years to come. However, they may require in-home assistance as their condition progresses. You can speak with your loved one's physician to determine if they need in-home care.
Here are four signs that may indicate a need for dementia care:
Difficulty completing daily tasks and activities
Wandering or frequent falls
Changes in mood and behavior
Social isolation and depression
About Our Dementia Care Services in Corvallis
Our team of caregivers brings care and companionship into the homes of local seniors. We help our clients age in place safely and comfortably. Our team offers specific services for seniors living with dementia. This type of care focuses on meeting basic needs, as well as creating a comforting and supportive atmosphere in the home.
Here are some of the dementia care services we offer in the Corvallis area:
Light housekeeping
Meal planning and preparation
Friendly companionship
Medication reminders
Personal care assistance
Mobility assistance
Transportation for appointments
Running errands
Dementia progresses differently for each individual, causing seniors to have unique needs and preferences for in-home care. Our dementia care services can be tailored to your loved one's needs. We are here to help them live a fulfilling and comfortable life at home in Corvallis.
Get Started with Visiting Angels Albany OR
At Visiting Angels Albany OR, you will find a team of local owners, staff, and caregivers. We are closely connected to the community and love serving local seniors with our comprehensive services. If your loved one is located in one of the following areas, consider our dementia care services for them:
Corvallis
Salem, OR
Linn County
Marion County
Polk County
Albany
Benton County
And throughout the surrounding area
We offer a free care consultation to help your loved one get started with our services. This initial meeting allows us to learn more about your loved one and discuss how our services can help them. This is also a great time to address any questions you have about our services or caregivers.
To learn more about our dementia care in Corvallis, contact Visiting Angels Albany OR today.