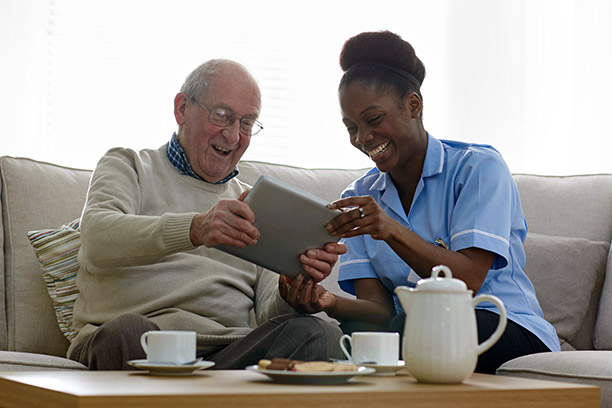 Alzheimer's Care Services in Alexandria, VA and the Surrounding Area
Depending on where your loved one is in their journey with Alzheimer's or dementia, you may have very different needs. Just because your loved one has been diagnosed with a memory disorder does not mean their home care needs will be the same as someone else with the same diagnosis. Visiting Angels Alexandria offers personalized dementia and Alzheimer's care to address our client's unique needs. Whether you are just beginning to deal with a new diagnosis or have a loved one who is further along in the progression of their illness, Visiting Angels Alexandria can offer Alzheimer's care services to suit your needs.
Call Visiting Angels of Alexandria at 703-750-8121 to schedule a free consultation.
Dementia and Alzheimer's Care in Alexandria, Arlington, and the Surrounding Area
When you call Visiting Angels Alexandria for dementia and Alzheimer's care, our services are not just about keeping an eye on your loved one. We look at the total needs of our clients, including physical, emotional, social, and spiritual. Our memory care specialists will help your loved one with physical activities which may be challenging. We also provide social interaction and companionship, which may otherwise be lacking. Our caregivers can help your loved one stay connected with friends and family through technology when visiting in person becomes difficult. Depending on your loved one's needs, Visiting Angels Alexandria can provide Alzheimer's care to suit your current situation.
Continuous Monitoring of Care in Alexandria
As trusted dementia and Alzheimer's care agency, Visiting Angels Alexandria feels it is important to monitor our care continuously. Because memory care needs may fluctuate rapidly, it is essential for us to be up to date on the needs of our clients. We oversee your loved one's care by checking in regularly over the phone and understanding how things are going. We occasionally visit in person to witness your loved one's progress. Any changes in mood, appetite, or behavior that may cause concern are promptly reported so you can address them.
Schedule a FREE Home Care Consultation
If you are looking for Alzheimer's care, call Visiting Angels Alexandria. Our agency is experienced in providing comprehensive memory care to seniors.


Serving Arlington, Alexandria and the Surrounding Communities
Visiting Angels
ALEXANDRIA, VA
85 S Bragg St #501
Alexandria, VA 22312
Phone: 703-333-5086
Fax: 703-333-5892