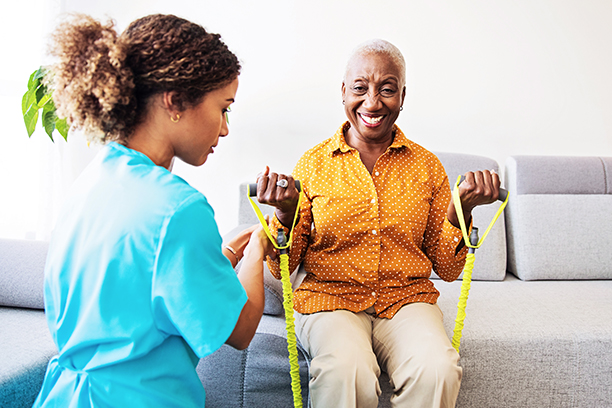 Trusted & Compassionate Living Assistance in Anderson
At Visiting Angels Anderson, Character Counts!
When you're in the process of finding a living assistance provider for a loved one in Anderson, trust is one of the most important factors to look for. Finding someone you trust can ensure you have peace of mind about your loved one's safety and security. In addition, it will allow your loved one to enjoy building a relationship with someone of high character.
Understanding the Character of Our Living Assistance Providers
Our team at Visiting Angels® Anderson has made it their top priority to put clients' needs first each and every day. As a result, our caregivers focus on promoting the personal well-being of seniors while delivering compassionate care in their homes.
This comprehensive approach to care is based on our character-first philosophy. Delivering care that truly has a positive impact on seniors and their family members requires the help of caregivers with character and integrity. These caregivers work to promote our organizational values and our vision for holistic, empathetic, and personalized senior care.
Our process for hiring caregivers is also grounded in this important philosophy. Here are just a few of the essential characteristics we require of caregiver candidates:
A kind spirit
Loyalty
Communication skills
Patience
A positive attitude
Trustworthiness
Matching Families with Trusted Living Assistance Providers in Anderson
Another reason we are trusted by families in the Anderson community is that we understand the importance of matching clients with the right caregiver from our team. Our in-depth knowledge of our caregivers' capabilities, talents, and personal qualities is crucial to this process.
We always initiate relationships with potential clients by getting to know their own unique values and personal preferences. We combine this knowledge with information about the senior's care requirements and scheduling requests to find a caregiver match that is a lasting fit.
Our caregivers strive to develop relationships with seniors and their family members, helping them know they are not alone in the process of aging in place. We are honored to have the opportunity to set the stage for these cherished relationships and a stable care situation that helps seniors thrive.
If you want to learn more about the character of our living assistance providers, we're ready to answer your questions. Call Visiting Angels Anderson today to set up a no-cost care consultation with your loved one in Anderson, Williamston, or a community in the surrounding areas.
Serving Communities in Anderson County, SC
Visiting Angels
ANDERSON, SC
135 Straight Dr
Anderson, SC 29625
Phone: 864-225-4868
864-284-6370
Fax: 864-284-6379