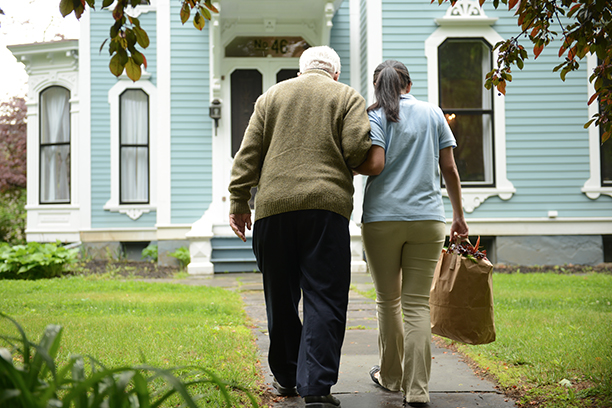 How Transitional Care in Anderson Reduces Hospital Readmissions
Ready-Set-Go Home with Transitional Care
When a loved one has spent a stretch of time in the hospital, hearing they will soon be discharged is often cause for celebration. However, it's crucial to use this time to engage in careful discharge planning and arrange care that promotes the senior's recovery at home. With our transitional care program at Visiting Angels® Anderson, you'll have all the guidance you need to help your loved one make a smooth transition from hospital to home and get on their way to a successful recovery.
What Causes Readmissions for Seniors in Anderson?
Research has shown that the time leading up to and following a hospital discharge can be a vulnerable period for seniors. A recent study of Medicare beneficiaries revealed that almost 20% of seniors were readmitted to the hospital within the short window of thirty days following their initial discharge.
During the time after hospitalization, seniors often need the opportunity to get as much rest as possible. However, if they are also responsible for looking after themselves, they may feel completely exhausted. Those with cognitive issues could struggle to remember to take medications or follow their doctors' instructions, while others with mobility limitations might skip important activities altogether. Only with the help of a dedicated care provider can older adults get the rest they need while also maintaining their overall well-being.
How Our Transitional Care Program Helps
Our care agency's transitional care program, Ready-Set-Go Home, sets seniors up for success by pairing them with a professional care provider who can manage their needs before and after their discharge. When they have a helping hand and a shoulder to lean on, seniors can boost their odds of making a recovery and avoid a return to the hospital.
Here's what our three-pronged approach to transitional care at Visiting Angels Anderson looks like in action:
We provide guidance at the hospital. Families often require help navigating the uncharted territory of the discharge planning process, and our care coordinators are more than willing to help out.
We deliver customized in-home care. Our services are tailored to suit individual care recipients' requirements and challenges and are always designed with their doctors' orders in mind.
We facilitate high-quality care at our office. We have hardworking office staff smoothing out logistics behind the scenes to ensure our care recipients have well-rounded care.
Get started with a free transitional care consultation in Anderson, Williamstown, or a nearby town today!
Serving Communities in Anderson County, SC
Visiting Angels
ANDERSON, SC
135 Straight Dr
Anderson, SC 29625
Phone: 864-225-4868
864-284-6370
Fax: 864-284-6379