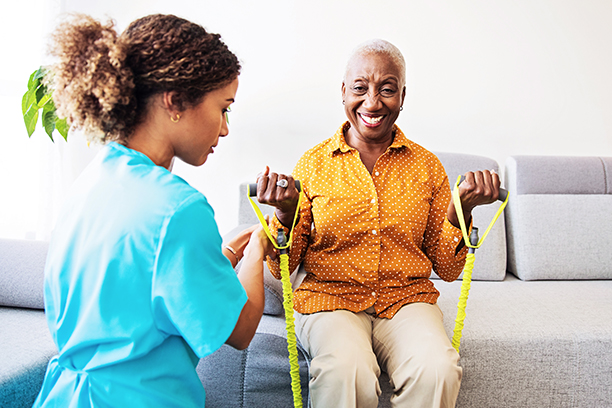 How Transitional Care in Anniston Reduces Hospital Readmissions
Ready-Set-Go Home with Transitional Care
Will your loved one soon be discharged from the hospital and in need of care? At Visiting Angels® Anniston, we're committed to reducing hospital readmissions among seniors through Ready-Set-Go Home, our transitional care program. We'll assist your family with coordinating your loved one's transition home and support them as they recover from their hospital stay.
This program, which is available in Anniston, Eastboga, Fort McClellan, Jacksonville, Oxford, Pell City, Talladega, Waldo, and nearby communities, takes a three-prong approach to transitional care. As a result, we're able to deliver the comprehensive assistance seniors often need to make a full recovery without an unplanned return to the hospital.
Causes of Readmissions and the Importance of Transitional Care
It's all too common for seniors to be re-hospitalized soon after being discharged. In fact, almost 20% of discharged Medicare patients end up back at the hospital within one month of being sent home. This is especially worrisome as elderly adults face a much lower recovery rate when they are re-hospitalized during this 30-day window.
There are many factors that lead to a hospital readmission, but one of the most prominent is the inability to properly follow doctors' orders. This isn't too surprising, as seniors can have trouble completing basic tasks on their own even in the best of times. Following a serious illness or injury, they may be unable to maintain their well-being and adhere to medical directives without outside support.
How Visiting Angels Anniston Can Help
We've set out to provide dedicated care for elderly adults during the move from hospital to home and in the crucial month following a discharge. Our services are delivered according to the following three-prong approach:
In the hospital. The care process begins during hospitalization to ensure seniors and their families have support with discharge planning and are informed about minimizing risks during the transition.
At home. After the discharge has occurred, caregivers help seniors safely and comfortably return to life at home while monitoring them for significant changes or failure to follow through with recovery protocols.
From our office. We're always working behind the scenes at our office to identify seniors who are at a high risk of re-hospitalizing. In addition, we utilize our resources to help coordinate high-quality, personalized care.
Ensure your loved one can benefit from transitional care following an upcoming hospital discharge. Contact Visiting Angels Anniston today to reserve a
Serving Anniston, Jacksonville, Oxford, Pell City, Talladega and the Surrounding Areas
Visiting Angels
ANNISTON, AL
1509A Greenbrier Dear Rd
Anniston, AL 36207
Phone: 256-530-4447
Fax: 256-530-4446