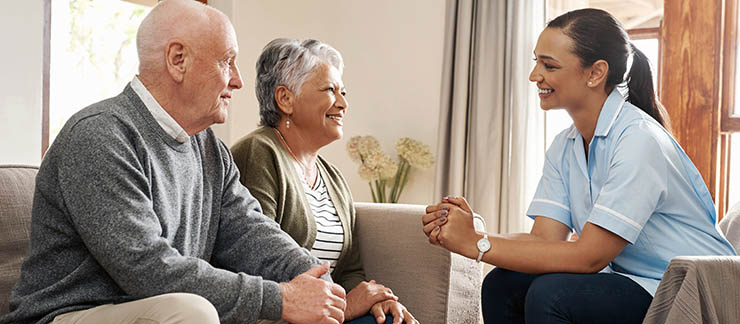 4 Steps to Begin Home Care Services
One of the most common mistakes families make when beginning home care services for a loved one is waiting too long. Some families wait until there is a dire, immediate care need — often after an accident, illness, or self-neglect occurs. Others delay services due to misconceptions about home care, concerns about home care costs, or lack of pertinent information.
It's essential to start thinking about your senior loved one's care needs as soon as possible. Plan to get professional home care assistance before a potentially dangerous situation occurs.
How to Start Senior Home Care

Starting senior care services isn't as difficult as you might think. You can put the process in motion via four simple steps:
Have a family discussion with your loved one
Hiring in-home care should always start with a conversation between a senior and family members, such as adult children and their spouses. Everyone may not be open-minded when it comes to identifying today's care needs and planning for the future.

Some seniors may be resistant to hiring someone to come into their home. Expect and prepare for pushback, but don't let resistance stop you from opening up about your concerns. The best way to counter your loved one's objections is by letting them know their well-being and safety are your primary concern.
Make the call
Visiting Angels offers no-cost, no-obligation in-home assessments designed to provide older adults and their families with more information about what home care options might be the best fit for their circumstances. To schedule an assessment with a local Visiting Angels' agency, call 800-365-4189.
Participate in the in-home assessment
During a Visiting Angels' in-home assessment, you and your senior will meet with a care coordinator at your senior's home. The assessment will enable you to learn about Visiting Angels' services and ask questions. It also enables your care coordinator to know your senior. Topics of discussion include:
Personal care needs
Favorite activities and hobbies
Scheduling
Logistics and policies
Needs for transportation, meal prep, light housekeeping, etc.
Complimentary home safety and fall risk assessments are included as well as recommendations to enhance your senior's safety and quality of life.
Visiting Angels' care coordinators are experts at helping seniors and families feel at ease. In fact, many families believe an in-home assessment helps resolve initial resistance and concerns about hiring an in-home caregiver.
Sign the agreement for services and meet your caregiver
You will need to sign a Client Services Agreement after you are ready to hire a Visiting Angels caregiver. Your care coordinator will prepare a comprehensive, individualized home care plan specific to the needs of your loved one — including matching them with a caregiver that will fit their personality, schedule, needs, and preferences. You and your senior will then have an opportunity to meet with your caregiver and coordinator to review the home care plan.
Although it may seem overwhelming — especially if your loved one needs immediate care —you can hire a Visiting Angels caregiver by taking a few simple actions. Starting with a family conversation and a phone call, your loved one can be on the road to enjoying the increased quality of life, safety, and well-being that comes with being a Visiting Angels' client.