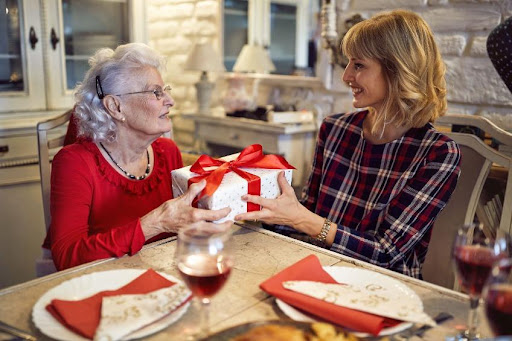 Gifts for Seniors
The holiday season has arrived! If you're still looking for the perfect gift for your family's seniors, check out these options below from local shops and businesses in the Atlanta area.
Even Keel Expedition Bath Set From Young Blood
If the seniors in your life enjoy a warm bath to relax after a long day, they'll love the Even Keel Expedition Bath Set from Young Blood. This set comes with six fizzy bath cubes made with all-natural seasonal botanicals. Your loved one can also use these cubes for a foot or hand soak instead of a full bath.
About the store: Young Blood is an Atlanta-based floral design studio and independent design shop. They sell a wide selection of fine jewelry, ceramics, accessories, fragrances, and home goods.
Elegant Fruit and Gourmet Basket from Eneni's Garden
You can never go wrong with a gift basket; there's no better choice than the Elegant Fruit and Gourmet Basket from Eneni's Garden. This beautifully crafted gift basket comes with strawberries, tea, crackers, oranges, tangerines, grapes, and pears. You can choose from three different sizes ranging in price from $100 to $200.
About the store: Eneni's Garden provides the Atlanta area with delicate floral arrangements and gifts. All their presents and flowers come with a freshness guarantee.
Stack of Books from Book Nook Bookstore
Whether your loved one has a favorite author they get lost in, or they're dying to check out the latest novels, you'll find the perfect stack of books at Book Nook Bookstore. They carry a wide selection of used books, comics, bargain titles, manga, audiobooks, graphic novels, and options for kids and young adults.
About the store: Book Nook is a Decatur-based bookstore that buys, sells, and trades books, comics, vinyl, and audiobooks. You can also browse their selection of DVDs, CDs, video games, and collectible toys.
Hammered Halo Pendant from The Beehive
Treat your loved one to a beautiful piece of fine jewelry, such as the gold-filled Hammered Halo Pendant from The Beehive. This compact pendant is 14k filled rose gold with an adjustable 16-18" chain. The disc pendant is hammered by hand to catch the light with every movement perfectly. The classic and minimal design makes it a stunning accessory for every outfit.
About the store: The Beehive is a boutique collective of independent designers focused on local entrepreneurship. The product selection at The Beehive includes apparel, housewares, baby goods, local foods, and jewelry.
Gift Card to Their Favorite Restaurant
If your loved one isn't a fan of physical gifts, consider getting them a gift card for their favorite restaurants. Not only does a gift card allow them to get a free meal, but it also means your loved ones can enjoy a night out of the house. If they don't have someone to enjoy a meal with, you can offer to join them and make a day out of it. Before or after the restaurant, the two of you can see a movie, visit a museum, or go shopping. Sometimes, just spending time with a loved one is the greatest gift you can give.
At-home caregiving services from Visiting Angels
If the senior in your life has difficulties caring for themselves at home, consider helping them pay for an at-home caregiver from Visiting Angels. Visiting Angels' professional caregivers can help with non-medical tasks like light housekeeping, meal preparations, medication reminders, mobility assistance, and transportation. Our Atlanta East office works with seniors in Atlanta, Buckhead, Decatur, Vinings, and the surrounding communities. If you'd like to learn more about our at-home care services, send us a message or call 404-358-5877.