Top Benefits of Visiting Angels' Social Care Program in the Age of COVID-19
Behind those loving eyes lies a person who was once the CEO of a company, a schoolteacher, a homemaker, or a nurse. Their life was filled with customers, students, sporting events and patients. Within a 24-hour period, your senior loved one may have interacted with no less than 20-50 people. They attended business meetings, parent-teacher conferences, and coached the football team, just as many of us do today.
As your senior loved one has aged, circumstances have changed resulting in greater risk for social isolation. Since retirement, they may have a reduced sense of camaraderie with colleagues. Family members and friends may have moved away. Their spouse or close trusted friends may have passed. Their driver's license may not have been renewed. In addition, your loved one may no longer be able to walk the longer distances required for some activities. As of the beginning of 2020, we have the pandemic creating another layer of isolation.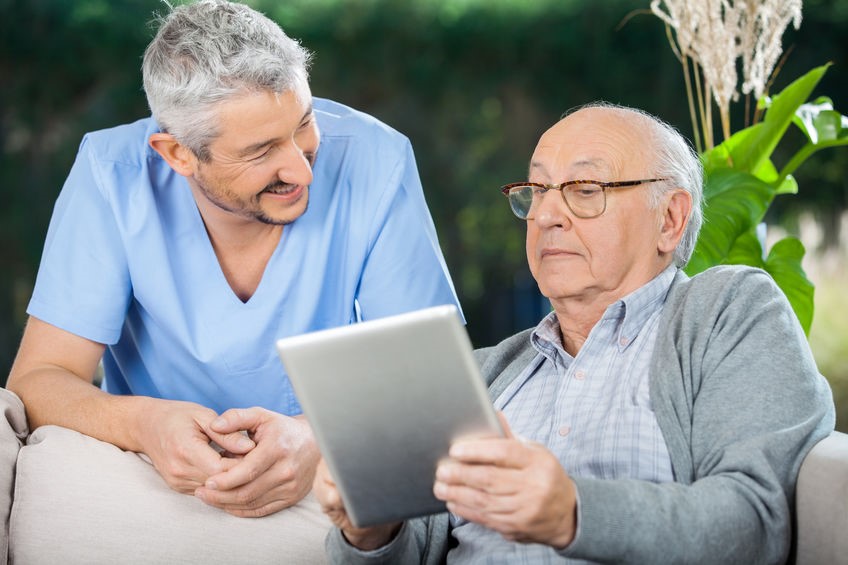 Socialization remains critical for the long-term emotional, physical, and cognitive health of your senior loved one. Social activities promote emotional vibrance by:
Maintaining feelings of self-esteem and a continued sense of acceptance and belonging
Sustaining long-standing friendships while offering opportunities for new friendships
Physically active social activities reap rewards including:
Preserving cardiovascular health
Maintaining muscle strength
Improving sleep
Boosting the immune system
Lessening the impact of a new illness
Cognitive stimulation provided during social activities has been shown to:
Slow memory loss
Keep our loved one mentally sharper
All of these benefits combined help provide increased longevity with a greater quality of life.
How can the Visiting Angels' Social Care Program support socialization for your senior loved one, especially in the age of COVID-19? First and foremost, our caregivers comply with recommendations from the Center for Disease Control to prevent spread of the virus. Once these precautions are firmly in place, our Visiting Angels caregiver can then get to work safely supporting your loved one in their quest for socialization during these unprecedented times. Here's how.
The caregiver can facilitate the use of electronics for socialization including:
Video face-to-face interaction using platforms, such as Facetime, Skype, Zoom, etc.
Voice communication via use of cell phone/smart phone.
Print/written interaction via texting, email and social media websites including Facebook.
Computer basics including surfing the internet and shopping online. Senior loved ones can search YouTube and watch funny animal videos or learn a new skill or recipe. Seniors can also get electronically connected with friends or family to play online games, such as word games, card games or trivia games. They can watch religious services streamed from their place of worship.
The caregiver can be a partner to your loved one during outdoor physical activity, such as gardening and walking. Perhaps they can take a drive to wave at nearby family members and friends from a safe distance or participate in a community caravan birthday parade.
Caregivers can facilitate indoor activities that promote socialization, such as arranging to sew masks to donate to the local hospital or re-establishing a pen pal. They can reminisce with family and friends by electronically sharing photographs and videos from years past.
Humans are social beings, whether at age 2 or 102. The benefits of socialization are endless. Our program can help make connections needed in this new normal. If you believe the Social Care Program can benefit your senior loved one, please call our office today at 404-358-5877 or visit our website for more information.