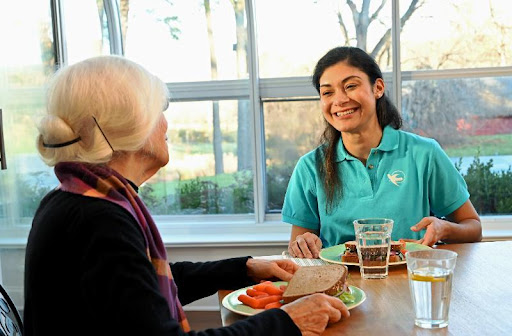 A Day in the Life of a Visiting Angels Client
Having an in-home caregiver can seem like too much for a lot of independent seniors. They have spent their adult lives taking care of themselves and others, and it may seem wrong to have someone taking care of them, despite the circumstances. Visiting Angels of Barrington can help your loved one find their way to getting the level of support they need to stay in their homes. Visit our website to find out more about our services and set up a free consultation. This describes the day of a senior, living independently in her home of 58 years, who has a Visiting Angel come three days a week for six hours each visit.
The morning sun streaks across my bed and catches my face, waking me up for the day. Gone are the days of the annoying buzz of the alarm clock, but I know my wonderful caregiver will soon be at the door to help me begin my day. I linger a bit longer, enjoying the quiet of my old house, when I hear the light knocking on the door that signals Jeanne's arrival.
Jeanne greets me with her beautiful smile and shows me some amazing tomatoes that she and her grandson have been growing in an indoor garden. They look so plump and juicy, and Jeanne has brought two over to share with me for lunch. Isn't that thoughtful?
Today is Tuesday, so we will be heading out of the house for a few errands. We decided against a shower but note that tomorrow both a shower and hair washing will be on the to-do list. For today, Jeanne helps me with my hygiene, reminds me to take my morning medications, and buttons my shirt for me after I get dressed (those tiny shirt buttons are so hard for me!). Jeanne is always by my side, almost predicting what I'm going to need next. She always remembers the little details, like moisturizing my hands and feet, and making sure I apply lip balm before we go outside.
We head into the kitchen, where she makes me a quick breakfast burrito with my favorites – egg, chorizo, and cheese – and we get ready for our day of errands. The pharmacy, dry cleaners, and grocery store are all on our list to conquer. I try not to do too much in one day because these trips make me very tired. It is so nice to have a companion like Jeanne because she makes me feel safe and connected when I leave the house.
We are quite a team by now; the grocery store knows us well and always has the best apples picked out for me. I plan to eat an apple every day until I can't eat them anymore; I heard once that "an apple a day keeps the doctor away," and I was sold on the idea right away! Whether it works or not, I can't say; I still have a few appointments a month that Jeanne takes me to. I love that she can help be my mouthpiece sometimes; I get so flustered and confused by everything that is going on around me; it's good to know I can trust Jeanne to always look out for what's best for me.
While we were waiting in line at our last stop, I suddenly got very tired. Luckily, Jeanne saw that I was not doing well and pulled up a chair for me, seemingly out of nowhere. She had me sit down as she finished up with the pharmacist, then carefully walked me back to the car, holding me up against her on the way. She is so strong and able to handle everything I throw at her. She truly is a blessing every day.
We made it back home, and Jeanne got out my wheelchair to help me get back into the house. I laid down on the bed, and she put away the groceries and tidied up the house. I could hear her humming to herself as I fell asleep for an early afternoon nap.
I woke up about 90 minutes later, refreshed and hungry. Jeanne had prepared some spaghetti and meatballs with garlic bread and fresh salad with the tomatoes from her garden. It was a delightful scent to awaken to, and we enjoyed lunch together, talking about our grandsons and their parents. I settled in for my afternoon stories on the TV, and Jeanne cleaned up lunch and prepared me a small dinner plate for the evening. I usually eat my big meal around noon and have a smaller dinner to avoid an upset tummy. She makes it look nice and puts a post-it note with instructions for heating it in the microwave. It helps me ensure I eat three meals a day, too.
By the end of her shift, Jeanne has taken care of me in so many ways that I am grateful for, and I am always looking forward to my next visit from my Angel.
If you or a loved one could use an Angel like Jeanne for home care, contact Visiting Angels of Barrington today to schedule a free consultation at (224) 512-4180 or visit our website.