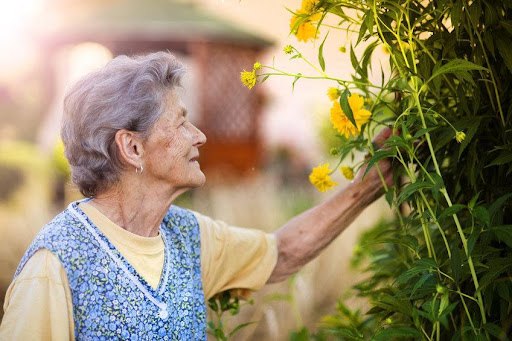 Gardening Benefits for Seniors
We all know the saying… April showers bring May flowers, and with that comes gardening season! Gardening is an enjoyable activity for all ages, and it can be particularly beneficial to older adults. Gardening provides physical and mental challenges that strengthen the body and mind, which are essential parts of staying healthy as we age.
Reduces Stress
Gardening can help you feel more relaxed and reduce stress, leaving you feeling happy and content. Gardening allows space for your mind to focus on something other than the daily stressors in life.
Protects the Heart and Reduces Stroke Risk
Gardening provides physical activity, reducing the risk of heart attack and stroke in the elderly. In addition, exposure to the sun increases Vitamin D levels which also reduces the risk of a heart attack. According to a Swedish study, regular gardening can reduce the risk of heart attack and stroke in people over 60 by 30%. However, if your loved one has Alzheimer's or dementia, make sure you are prepared for gardening before starting any projects together.
Increases Mobility
Gardening is a great way to exercise and get some much-needed sunshine. The more physical movement you do, the better your brain will function in years to come. Gardening aids in preventing and battling diseases, gaining motor function, helping with balance, and improving mobility and strength.
Improves Brain Health
Gardening lowers the risk of Alzheimer's and dementia. Studies have shown that gardening can reduce the risk of dementia by up to 36%. Gardening is one of many positive activities in a person's life, reducing their risk of developing diseases related to aging.
Strengthens Connections
Gardening is a hobby that many, especially seniors, can enjoy. Gardening with friends creates a shared hobby that can strengthen the friendship's bond. Think about joining a garden club or visiting a nearby community garden. "Grow" your social connections through your love of gardening.
Increases Serotonin
Research shows that gardening can help relieve symptoms of depression and other mental health issues. It's not just the physical activity that has a positive effect on your mind; some studies even show that contact with certain bacteria found in soil triggers the release of serotonin in the brain, which works as a natural antidepressant.
When planning a garden space for seniors, make sure it is in a safe space with a good amount of shade, a place to sit, and accessible planters. Gardening is a great excuse to get outside and relish in the fresh air, and it also has the bonus of health benefits. At Visiting Angels Barrington, we encourage our senior clients to participate in healthy hobbies like gardening. We help provide them with safe spaces to enjoy the fresh air and friendly companionship.