Palliative and Dementia Care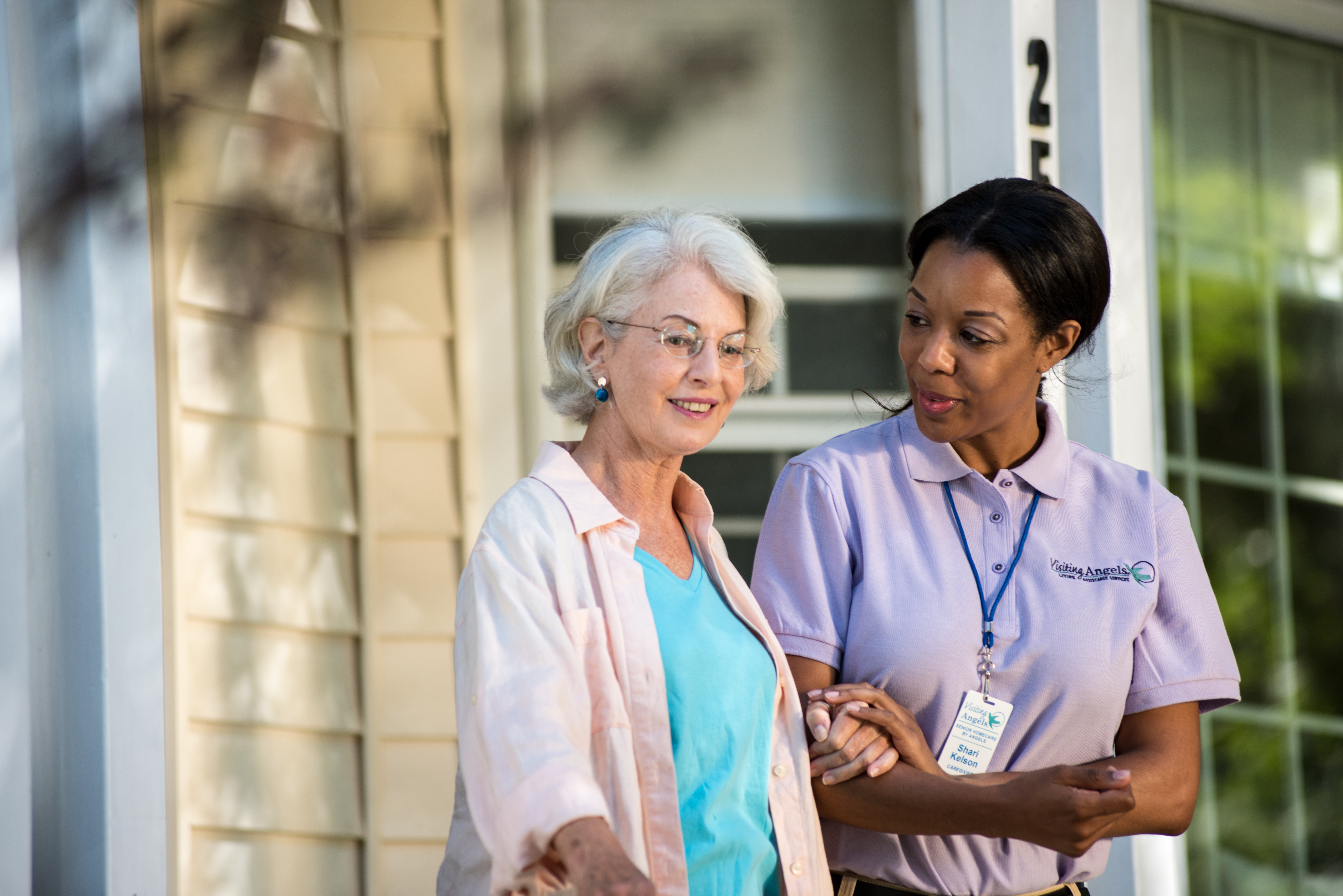 Visiting Angels Caregivers are trained to support their clients so that they can continue to live comfortably at home, no matter what issues and ailments they're managing. For some clients, this means facing the challenges that comes with serious illness. Visiting Angels palliative care is a holistic, non-medical approach to helping clients manage treatment, recover and, in some cases, assisting them as they transition to end of life care.
For other clients, Visiting Angels Caregivers help provide structure and comfort to navigate the stress and confusion when dementia sets in. With the right help and support, clients and their families can manage dementia care. It always helps to have a guide and a plan.
Visiting Angels Caregivers offer all their clients a non-medical approach to care that centers on providing assistance, companionship, resources, and logistical help to foster thriving. If you or your loved one is committed to aging in place, Vising Angels Caregivers can help make that arrangement a safe, healthy, comfortable one. If palliative or dementia care is required, you can request a caregiver who has been specially trained to assist clients with those special needs.
Here's how Visiting Angels Caregivers can help.
What is palliative care?
Clients who are experiencing serious illnesses benefit from palliative care. In some cases, they may be actively undergoing treatment. In other cases, the treatments may no longer be useful, and they are using their remaining time to rest, emotionally recover and connect with their family members as they prepare for their end of life stage. This can be an important time for individuals and their families to experience together.
Visiting Angels Caregivers are trained to help their clients to stay comfortable, both inside and out, during this delicate time. To that end, our caregivers aim to ensure that our clients get their physical, emotional, spiritual and social needs met. Our Caregivers team up with the families to make sure that their loved one is getting the holistic care, comfort and stimulation they need to manage this life phase.
Visiting Angels Caregivers brings expertise to this difficult situation, providing structure, experience and a care plan. Our Caregivers are positioned to help with the logistics of the situation, which can free up family members to do vital emotional work and to keep their focus where it belongs, on their loved one.
Inviting dementia care
The Alzheimer's Association explains: "Dementia is not a specific disease. It's an overall term that describes a group of symptoms associated with a decline in memory or other thinking skills severe enough to reduce a person's ability to perform everyday activities. Alzheimer's disease accounts for 60 to 80 percent of cases."
Some of these symptoms include memory loss, decreased language ability, loss of ability to concentrate, impaired judgement, and difficulty with spatial awareness or vision. Dementia has early, middle and late-stages, during which the symptoms increase in severity. Clearly, many of these symptoms make living alone difficult, dangerous and scary. This is where Visiting Angels can help. Our Caregivers can be a touchstone to wellness for your loved one.
Living with dementia can be frustrating, sad, lonely and scary. Some seniors may try to deny their issues because of these feelings, and in so doing they understate the degree to which they need regular assistance.
Providing that care to a loved with dementia can be stressful, demanding and difficult. It's generous, kind and compassionate to care for a loved one with dementia. It's imperative, if you're doing this vital work, that you get the support you need, both for your loved on and yourself. Visiting Angels Dementia Care provides compassionate caregivers who know how to assist.
Our Caregivers will cook, run errands, tidy the house, help with grooming and get your loved one to the doctor's office. Wellness checks are also a key component of dementia care: our caregivers will ensure that their clients are taking medications, eating, staying hydrated, bathing, maintaining a clean environment and staying safe in the home.
When a loved one is suffering with dementia, family members, neighbors and friends can help by forming a care network that supports and checks in. Visiting Angels Caregivers are another link in the chain, assisting with some of the deeper duties.
Additionally, our Caregivers visit with their clients, and they are trained to know how to engage them. Visiting Angels has partnered with leading dementia specialists to develop a series of dementia care certification programs; many of our caregivers are certified in advanced dementia care protocols.
Your loved one wants to age at home. Visiting Angels Caregivers can make the arrangement work for you and for them. Allow our caregivers to share their expertise and their compassion with your family. It truly helps.