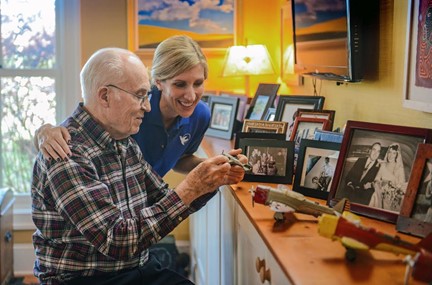 What does it mean to be resilient, and why do older adults tend to be so good at it?
The American Psychological Association defined resilience as "the process of adapting well in the face of adversity, trauma, tragedy, threats, or significant sources of stress—such as family and relationship problems, serious health problems, or workplace and financial stressors." Life experience can bolster our resilience. Going through difficult times, knowing what we need to get through them, and feeling confident that we have the strength and expertise to survive enables resilience.
These psychological muscles get stronger throughout a lifetime. Older adults tend to be especially adept when it comes to absorbing life's unexpected developments, putting them into perspective, and moving forward with confidence. Journalist Judith Graham writes: "Older adults are especially vulnerable physically during the coronavirus pandemic. But they're also notably resilient psychologically, calling upon a lifetime of experience and perspective to help them through difficult times."
Older adults have weathered much during 2020; they have also given much. They are often a source of emotional support and stability for their families, assuring their younger family members and helping them put things into perspective. We need the older adults in our families and our communities to provide this helpful grounding and insight. Our elders' experiences give them a greater sense of context and perspective. They can help their friends and family to seed their own resilience, which is key to making emotional sense of life.
It's important to ensure that older adults' physical needs are met so that they can thrive. That way, they can continue their important work of being role models for resilience and emotional strength. Visiting Angels in Barrington Caregivers support our clients wherever they are most comfortable; for most, that means in their own homes. Here is how Visiting Angels in Barrington positions our clients to thrive.
A customized approach to care
Each older adult has a unique set of needs. Our Caregivers strive to find the right balance with a schedule that works optimally for each client. Likewise, our range of services: companionship, personal and hygiene care, Alzheimer's and dementia care, palliative, end of life care, etc., evolve and change as our clients' needs change. We understand the aging process, and we help our clients and their families to navigate this life stage.
We believe in older adults. We know that they are the heart and soul of their families. Our programs and offerings are built around what our clients and their families need. After all, these are our precious elders; their comfort and dignity are our top priorities. Our Caregivers earn their roles because they genuinely have a heart for caring for older adults and making this stage of their lives a happy and healthy one.
Food planning is key
While many older adults may have strong mental and emotional muscles, sometimes they encounter physical challenges that can be difficult. A pressing one is challenges around nutrition and meal planning. Dr. Paul Y. Takahashi writing for the Mayo Clinic, explains: "Some loss of taste and smell is natural with aging, especially after age 60." Dr. Takahashi adds that medications and illnesses like Alzheimer's and Parkinson's Disease can reduce these senses. This can make it harder for seniors who live alone to keep up with their nutritional needs. It isn't easy to remain motivated to shop and cook if the food does not taste good.
Visiting Angels in Barrington Caregivers help our elderly clients by streamlining their food planning. A Caregiver will come and make a grocery list and then also shop for that client. Our Caregivers will also run other errands, including trips to the pharmacy and medical appointments. Visiting Angels in Barrington Caregivers will also cook a healthy meal for clients and assist with light housekeeping. They help their clients make their house a home and make the arrangement to stay there a healthy and suitable one.
Having a Caregiver regularly in the home is especially helpful during Illinois' cold, snowy winters. Our clients and their families are glad to know that they can count on a Visiting Angels in Barrington Caregiver to be there like clockwork to assist.
Older adults tend to be emotionally strong. If we can give them the resources they need to thrive at home, they are well-positioned to remain physically strong. Visiting Angels in Barrington is here to help. Please call us at 224-512-4180 to speak with a care coordinator or contact us online.