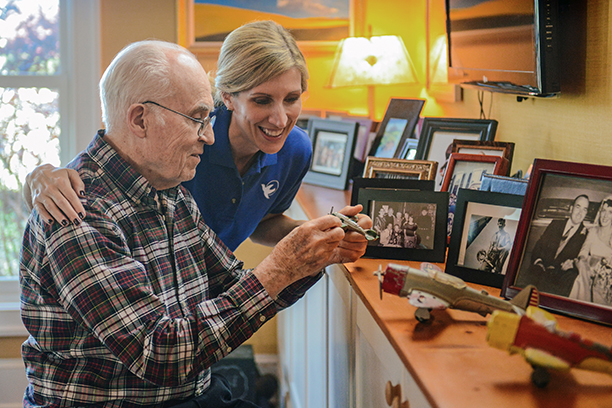 How Alzheimer's Care Helps Kingwood Seniors & Families
Caring for a loved one who is coping with Alzheimer's can be extraordinarily challenging, especially as their condition progresses. At Visiting Angels Baytown, our Alzheimer's care program is specifically designed to bring specialized Alzheimer's care directly to Kingwood-area homes. This program comes with a range of benefits, helping care recipients live more comfortably and reducing the burdens felt by family caregivers.
Here are some of the key benefits that Kingwood families can expect from our Alzheimer's care program:
Benefits of Alzheimer's Care for Kingwood Seniors
When you choose Alzheimers care from Visiting Angels Baytown, our goal will be to keep your loved one as safe, happy, and comfortable as possible.
Part of that goal is keeping your loved one in the comfort of home for as long as possible. Our caregivers know that familiar routines and surroundings are important for those coping with Alzheimer's. By keeping your loved one at home, we allow your loved one to stay in a place that feels familiar and comfortable.
To do this, we bring professional care to your loved one as an alternative to bringing them to a care facility. We offer monitoring, companionship, and personal care to make life at home easier for your loved one. We also encourage a brain-healthy lifestyle, helping encourage routines and choices that can slow the progression of your loved one's condition.
Benefits of Alzheimers Care for Family Caregivers
Often, Alzheimer's care providers from Visiting Angels Baytown are as much a godsend for family caregivers as they are for care recipients. If you find yourself overwhelmed caring for a loved one with Alzheimer's, the support and respite provided by our Kingwood-area caregivers can be a huge help. Even a few hours of professional care a week can give you time to focus on yourself, rest, relax, recharge, and unburden yourself from care-related stress and anxiety.
Alzheimer's Care in the Kingwood Area
If you have a loved one in the Kingwood area who could benefit from Alzheimer's care, the care specialists at Visiting Angels Baytown will be happy to help you coordinate professional care. We offer free, one-on-one consultations and care assessments, conducted in the comfort of your loved one's living room. We will help you plan a workable care schedule, coordinate care directives with your loved one's doctor and/or nurses, and manage the costs of care to ensure it remains affordable. We'll also give you the chance to meet with a caregiver ahead of starting care, thanks to our Select Your Caregiver® program.
To schedule a no-cost Alzheimer's care consultation for your loved one in the Kingwood area, contact Visiting Angels Baytown today.
Serving Baytown, Pasadena, Crosby and the Surrounding Areas
Visiting Angels
BAYTOWN, TX
6236 N Highway 146 #11
Baytown, TX 77523
Phone: 832-514-6539