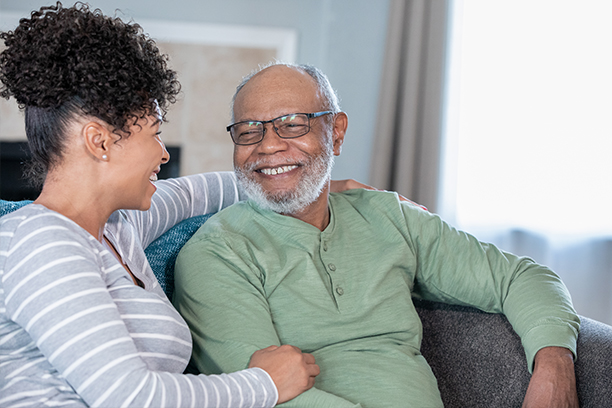 Home Care in Parma
When support is required in order for a senior to live at home comfortably, the option of home care can feel like a huge relief that offers a more positive outcome for the aging process. Home care services delivered across the Parma area are available from our locally owned and operated senior care agency, Visiting Angels® Berea. Our team maintains a philosophy of caregiving that focuses on uplifting seniors as well as their family members to make the aging in place process a more comfortable and joyful experience.
We can serve seniors who reside in the following communities:
Parma
And in surrounding communities
All of our care team members have completed a background check and detailed vetting process. In short, your family can rely on us to make certain your loved one receives life-enhancing care from someone who is dedicated to enriching their experience of living at home for the long run.
About Our Home Care in Parma
The care needs of your loved one are unique, and we promise to offer services that tend to those unique needs as well as the unique personality and preferences of your loved one.
A few examples of the types of in-home assistance we offer are below:
Help with bathing and incontinence
Assistance with daily dressing routines
Running errands and shopping in the Parma area
Timely medication reminders
Light housekeeping tasks
Conversation and companionship
Travel assistance and accompaniment
How We Approach Setting Up Home Care in Parma
To design the best care plan for a loved one as well as a care schedule that meets their needs, we will first build a relationship with your family and learn as much as possible about how we can help. To discover what makes your loved one unique and what they need most out of home care, we will complete the following steps:
An initial overview of our services. Call us today for answers to general questions and help with setting up a no-cost consultation with one of our care coordinators.
A complimentary consultation. We will gather detailed information about your loved one's age-related requirements and your family's concerns during this initial meeting offered free of charge.
Home care plan development. Next, we will collaborate in partnership with your family to design a customized care plan and schedule that meets your loved one's wide range of needs.
Caregiver match. Finally, we will match your loved one with a fully vetted caregiver who is ready to start delivering meaningful care in the comfort of their home.
Some of Our Available Home Care Services
Personal Care For Seniors in Parma
With personal care, your loved one can receive support with day-to-day tasks that are tough for them to complete due to mobility restrictions but are nonetheless critical to their overall well-being. For example, a personal care provider can offer kind, compassionate, and patient physical support that makes getting dressed, showering, and using the toilet less risky and more comfortable.
Alzheimer's Care and Dementia Care
We can provide specialized forms of care for seniors with a memory disorder through our Alzheimer's care and dementia care services. These services are tailored to assist clients with the difficult symptoms of confusion, emotional outbursts, memory loss, and moments of anxiety that they will deal with throughout the stages of a memory disorder.
As part of these care plans, we also offer respite for overworked family caregivers and provide physical assistance with tasks that become increasingly unsafe for seniors to complete on their own.
In-Home Companion Care and Social Care
Senior isolation is common and can be countered through increased socialization and the building of meaningful relationships. Our companion care services tackle this problem by pairing elderly adults with a compassionate companion who can not only engage in interesting conversations with them, but also provide emotional support and help in the home.
Additionally, our Social Care program focuses on helping seniors maintain the social connections they already have by teaching them how to use online tools most effectively.
Safe & Steady Fall Prevention
One of the biggest health risks that seniors face are falls. Falls aren't only dangerous, they also commonly lead to a loss of autonomy that has a serious effect on seniors' well-being for the rest of their lives. To assist your loved one with avoiding a tragic fall, we can provide them with a personalized risk assessment and point out simple changes they can make at home to lower their risk of falling.
Transitional Care During Hospital Discharges in Parma
Our Ready, Set, Go Home transitional care program helps seniors after a hospital discharge and during the recovery period following their return home. As seniors recuperate at home, they are often vulnerable to complications that could lead to additional hospitalizations. Our caregivers offer the in-hospital and in-home support clients need to get on the road to a successful recovery that enables them to stay at home for the long run.
Palliative Care
Palliative care services take a more holistic approach to the act of caregiving by uplifting clients and encouraging them during some of the most difficult times of their lives. The palliative care services we offer include physical support as well as support in the social, emotional, and spiritual realms.
End of Life Care
Seniors nearing the end of their journey of aging can receive end of life care, which eases their discomfort while also helping their family members spend more precious moments with them. Through both logistical and emotional support, we give families the chance to have a more peaceful experience of saying goodbye to someone who is close to their hearts.
Get Started with Home Care in Parma Today
The home care in Parma offered by our compassionate professionals helps seniors maintain their daily life at home and stay comfortable during their golden years. To get started with a free consultation, call our office at (440) 239-7094.
Serving the Cleveland Suburbs, Southwest Cuyahoga County & Eastern Lorain County
Visiting Angels
BEREA / STRONGSVILLE, OH
505 Front Street, Suite 5
Berea, OH 44017
Phone: 440-239-7094
Fax: 440-239-7424