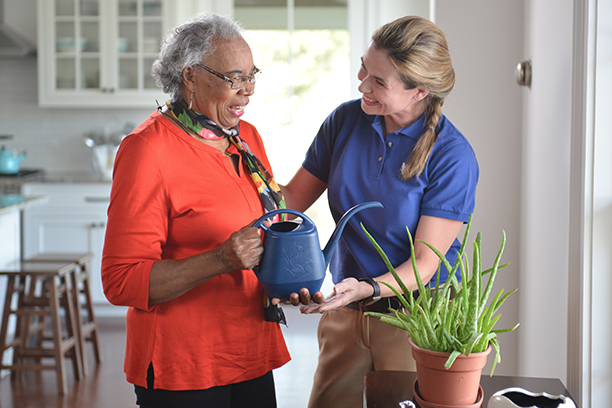 How We Assist With Aging in Place in Boston
Seniors deserve to live with as much independence as possible even when mobility issues and other age-related concerns limit their abilities. However, aging in place typically requires support from a caregiver. If you want your loved one to have compassionate assistance as they go about the daily rhythms of life, the professional care providers at Visiting Angels® Boston are ready to help.
The Importance of Aging in Place in Boston
Older adults would choose life at home over life in an assisted living facility any day. Unfortunately, living alone at home can pose safety hazards for seniors, putting their overall well-being at risk. For those who need assistance with day-to-day activities, in-home care is an ideal solution that enables them to remain at home while still having the advantage of professional support.
It's not hard to understand why seniors want to stay in familiar surroundings. They've built a life for themselves at home over many years, and leaving that all behind can be emotionally traumatic. By aging at home, they're able to hold on to what makes them feel like a unique individual. Simple daily rituals and familiar surroundings bring comfort, peace, and a sense of purpose.
In-Home Care vs. Assisted Living
The main alternative to in-home care is assisted living. It's quite common for families to believe assisted living is the safest choice for their loved ones. Yet studies have shown that older adults who receive in-home care fare better health-wise than their counterparts in retirement communities or senior care centers. There are several reasons for this, including the likelihood that contagious illnesses will spread among the residents of a shared living facility.
How Visiting Angels Boston Helps Families
Your family can count on our caregiving team to offer physical support for your loved one as well as companionship, conversation, and assistance with maintaining their personal security. Our services are always tailored to the lifestyle and scheduling preferences of the individual senior. In addition, we take any chronic conditions or specific age-related challenges into account when building their unique care plans.
With our help, you can know your loved one is safe, comfortable, and content while aging in place. You're welcome to continue participating in their care as much as your schedule allows. Whenever you feel you need extra time off or want to go on vacation, you'll always have a professional care provider ready to step in and take over.
Learn more about the benefits of aging in place with the help of our senior care providers in Boston, Cambridge, Brighton, and the surrounding areas. Contact Visiting Angels Boston to request a free consultation at your convenience.
Serving Boston, Cambridge, Brighton and the Surrounding Areas
Visiting Angels
BOSTON, MA
1 Washington Mall
Boston, MA 02108
Phone: 617-995-3737