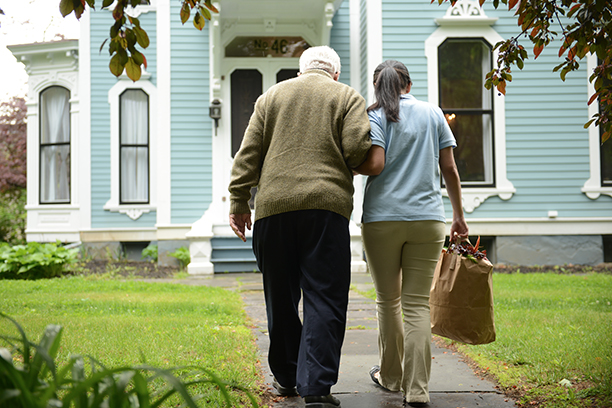 How We Assist With Aging in Place in Chelsea 
When aging in place becomes difficult, Visiting Angels® Chelsea is ready to help. Our local care agency understands most seniors want to continue living in their own homes even as they encounter challenging mobility limitations and chronic health conditions. Our professional care providers offer the compassionate support older individuals need to maintain their well-being while remaining in the familiar surroundings of the place they call home.
The Importance of Aging in Place in Chelsea
With a recent AARP report stating that almost 90% of Americans over the age of 65 want to stay in their own homes, it's clear aging in place is the preference of most seniors. However, living alone isn't so simple for this age group. Typically, they require a helping hand to ensure they're properly taking care of their well-being.
While aging in place isn't always easy for seniors, it does come with a number of benefits. Maintaining one's independence at home opens the door to a more flexible routine filled with those little daily rituals that provide a sense of purpose and autonomy. Living in familiar surroundings can also bring back warm memories and instill feelings of stability in seniors during what is often a challenging life stage.
In-Home Care vs. Assisted Living
Assisted living may be considered an alternative to in-home care, although it has many drawbacks. For example, residents of nursing homes or senior care facilities must adhere to a pre-determined schedule and lose the flexibility and spontaneity they enjoyed while living at home. Assisted living is also incredibly cost prohibitive, with bills running in the tens of thousands of dollars for a single year of care.
How Visiting Angels Chelsea Helps Families
Our professional caregivers are honored to play a role in helping seniors live their best lives. We build customized service plans for our caregivers that include the precise levels of assistance they need to preserve their independence and their personal safety. In addition, our caregivers act as cheerful companions and conversation partners, building meaningful relationships with both care recipients and their concerned family members.
Whether your loved one requires assistance with tidying up the home, remembering to take medications, or going to doctors' appointments, we're here to help. Our services can enable them to live on their own terms for as long as possible.
Why wait to learn how senior care services from Visiting Angels Chelsea can make aging in place a reality for your loved one? Reach out to our local office today to book a no-obligation care consultation in Chelsea, Dexter, Scio, Manchester, Benton, Webster, Stockbridge, or a town in the surrounding areas.
Serving Servicing Chelsea Michigan and Surrounding Areas
Visiting Angels
CHELSEA, MICHIGAN
1307 South Main Street Suite B
Chelsea, MI 48118
Phone: 734-385-2030