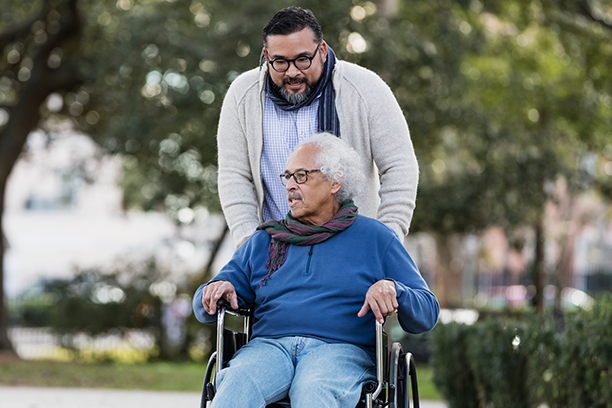 Our Experience
Find Experienced Elderly Care Services in Chino CA
When the time comes to find elderly care services for your mom or dad, it can be difficult to know where to turn. Which elderly care services are best for your loved one? How will your loved one cope with having an elderly care services provider visiting them at home? What kind of elderly care services provider is best for your mom or dad? If you are looking for answers, now is the time to call Visiting Angels Chino CA. Our elderly care services can bring your family peace of mind.
At Visiting Angels Chino CA, we understand the difficult position you are in. Your loved one needs assistance and quality care. You'd like to be the one to provide that care, but family, work and other obligations make it impossible for you to be with your loved one all the time. That's where our elderly care services can help. Our experienced, compassionate elderly care services professionals can provide the care and attention your loved one needs when you can't be there.
The elderly care services providers from Visiting Angels Chino CA have been specially selected. Our elderly care services providers are experienced professionals who have the skills and knowledge needed to provide quality care. We take great care in choosing caregivers to join our team. We require all caregivers to have previous experience because on the job training simply won't do.
Each caregiver who comes to Visiting Angels Chino CA has been through an extensive interview process that includes multiple interviews, reference checks, background checks, and pre-employment drug screens. We carefully screen all our elderly care services providers to ensure they have what it takes to care for your loved one. We won't recommend an elderly care services provider to assist your loved one if we wouldn't be comfortable having that caregiver working in our own home. It's a powerful litmus test that each of our caregivers must pass.
To help you feel completely at ease with your caregiver, we ask you to be involved in the process of selecting your elderly care services provider. We'll provide you with caregivers who have the skills to meet your loved one's needs. You'll be able to meet with each one and choose the caregiver who puts you at ease.
Find an elderly care services provider wh
Serving Chino, Chino Hills, Diamond Bar, Loma, Mira, Loma, Ontario and West Covina, CA, and Surrounding Communities
Visiting Angels
CHINO, CA
13768 Roswell Avenue #212
Chino, CA 91710
Phone: 909-590-9102
Fax: 909-590-9239
HCO #364700010