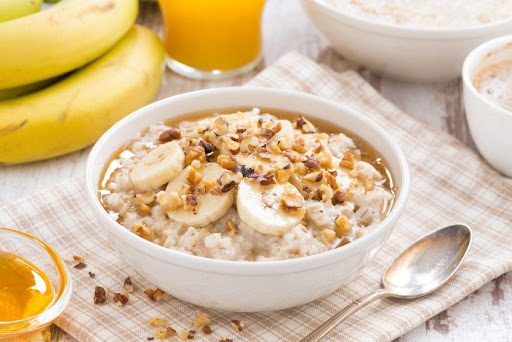 Quick and Easy Meals for Anytime
There are some people who absolutely adore cooking and take immense pleasure in preparing a meal. Picking ingredients, preparing them and turning everything into a delicious end product is something that excites and motivates them. But for others, cooking can be a chore, and as people age, it can also become a time-consuming, laborious task that's not enjoyable. The good news is that there are some quick, simple meal ideas that not only ease the burden on seniors but are also easy to make as well.
Oatmeal
One of the healthiest breakfast staples around is oatmeal. Proven to lower bad cholesterol, oatmeal is high in fiber and antioxidants, is known to lower blood sugar levels and is proven to be heart healthy. And depending on the type you buy, it's incredibly easy to prepare. Quick oats cook in about a minute in the microwave, and rolled oats only take about five minutes at the most. Steel-cut oats retain more of the oat kernel and take a little longer to cook on the stovetop (about 20 minutes), but the process is still incredibly simple. Just boil some water, put the oats in and stir occasionally. One of the best parts of oatmeal is that in addition to being healthy on its own, you can also add even more nutritionally beneficial toppings to it that taste great. Natural peanut butter, bananas and berries are just a few ways to make a great breakfast even better.
Eggs and Toast
Eggs and toast are simple, filling and easy to prepare. As with most dishes, there are a number of ways to prepare eggs, but to make them healthy, avoid frying them in high-fat oils and butter and instead scramble them or make an omelet. Eggs pair well with healthy vegetables that you can sauté beforehand, and additional toppings like pepper flakes and salsa can be great, healthy additions. When it comes to complementing your meal, toast is an excellent choice. Picking a bread high in fiber and full of beneficial nutrients can help you feel full for hours, and if you have dietary restrictions, such as gluten intolerance, there are options available to meet your needs. Eggs cook quickly, and toast is as simple as putting a couple slices of bread in the toaster, making this the perfect quick meal any time of day.
Pasta
Another simple dish, at its most basic, pasta only requires boiling water, adding a little salt and pouring in the pasta itself. From there, cook it to the texture of your preference and add whatever sauce and other ingredients you'd like to make the dish your own. Pasta can be paired with everything from a simple tomato sauce that you can buy or make yourself, or you can get creative and add ingredients like chicken, shrimp and even lemon. Pasta also makes a lovely side dish when tossed with a little bit of butter, so it pairs nicely with other main courses. Look for pastas made with whole grain or that match any dietary restrictions you may have.
Salad
Salads can take on whatever form you like, but the most common ones have lettuce and other vegetables as their main components. These are healthy, full of flavor and pair well with almost any dressing, including balsamic vinegar, which can lower blood sugar and cholesterol, among other benefits. Salads are easy to put together, requiring a little chopping and a small amount of mixing or tossing to blend everything together. They're high in fiber and provide key vitamins, minerals and antioxidants into your diet. Plus, they taste great!
Sandwich
There's nothing better than a good sandwich, and when using healthy ingredients like whole-grain bread and lots of vegetables, it's a simple way to eat well without spending an eternity in the kitchen. Plan ahead by purchasing sandwich ingredients like healthy lunch meats, tomatoes, lettuce, onions. Get creative and add hard boiled eggs or even fruit to change things up a little, too. There's no wrong way to make the sandwich as long as you're happy and eating well.
Conclusion
Meal prep doesn't have to be a chore. There are simple, quick meals that can be prepared quickly, customized and offer a wide variety of flavors and nutritious ingredients. Of course, you should always consult your doctor or trusted medical professional before making any major dietary changes. If you have any questions or want to learn more about ways to make your life a little easier, Visiting Angels Crystal Lake is a great resource. Our in-home care services can include assistance with meal prep, transportation to and from errands and appointments, companionship and much more. Give us a call today at 815-479-0312 to schedule a complimentary care consultation. We proudly serve seniors and their families in Crystal Lake, McHenry, Woodstock, Cary, Barrington, Algonquin, Palatine, Lake Zurich and Surrounding Areas.