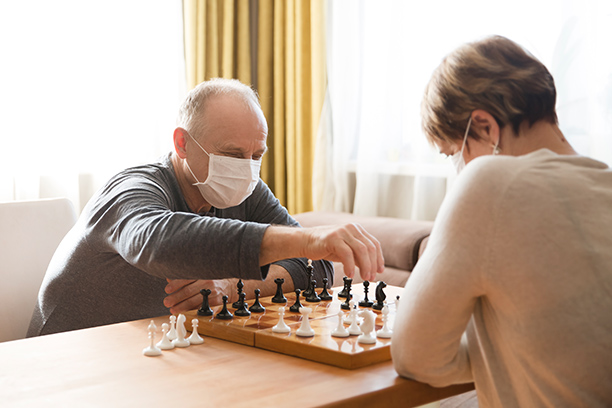 Elderly Companion Care in Dover
Our companion care program enables seniors to enjoy the life they've built for themselves while maintaining confidence they have access to support when they need it. At Visiting Angels® Dover, we know older adults can sometimes struggle to maintain their own well-being without a helping hand. Our companion care providers help seniors avoid losing their independence and offer compassionate companionship that makes a positive difference in their lives.
This type of home care is one of our most requested options. As it is a great choice for elderly adults who require a bit of assistance with managing their daily routines, it's no wonder families are finding value in companion care. We can design personalized care plans for seniors in Dover, Smyrna, Middletown, Rising Sun-Lebanon, Highland Acres, Camden, and nearby communities.
What is Companion Care For Dover?
Our customized care plans often include a wide range of services that make daily living safer and more comfortable for seniors. A caregiver can help out with conducting errands such as going grocery shopping or stopping by the pharmacy on behalf of the care recipient. Other possibilities include the caregiver preparing meals for the senior and taking care of light housework. For seniors who need to be reminded of their medication schedules, a caregiver can be relied upon to offer prompt cues.
In addition to help with daily routines, working with a caregiver also has the added benefit of regular social interaction and emotional support. Many elderly adults are at risk of becoming isolated and lonely, which can take a toll on their overall health and well-being. Our caregivers always strive to build lasting relationships with seniors. They can act as patient conversation partners, participate in the senior's favorite pastimes, and provide accompaniment to appointments.
Differences Between Companion Care and Personal Care
Our local care agency offers a wide range of caregiving programs. Sometimes, it's not quite clear for families which type of care is the most appropriate for their loved one in the Dover area. If you're trying to understand whether companion care is the best choice, keep in mind that this care program does not include direct physical support with activities like bathing, grooming, getting dressed, or toileting. For help in these areas, we recommend our personal care program.
Learn more about getting started with companion care in the local area today! Simply get in touch with Visiting Angels Dover to schedule a free consultation for your loved one.
Serving Middletown to Magnolia
Visiting Angels
DOVER, DE
1050 Industrial Dr #120
Middletown, DE 19709
Phone: 302-751-3324
Fax: 302-751-3327